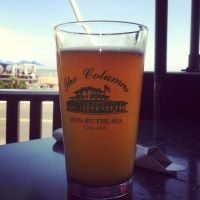 If you're looking for a good time  down on the Jersey shore, check out the Shore's hundred best bars, courtesy of FunNewJersey.com.
| | |
| --- | --- |
| Jenk's Club | Website | 732-899-0569 |
| 300 Ocean Ave., Point Pleasant Beach, NJ 08742 |  Central Shore Region NJ |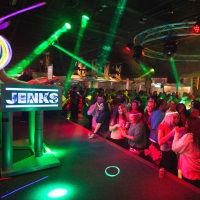 Best nightclub in Point Pleasant 
As one of Point Pleasant NJ's best known bars, Jenk's Club is a seasonal bar and club where you can enjoy good drinks and a great time all summer long. They have two different bars at their club, the Pavilion Beach Bar and the North Inlet Bar. The Pavilion Beach Bar is where you can kick back, relax and enjoy the laid back environment while the North Inlet Bar offers beachside beverages and food, daily entertainment and, of course, beach fun.Giving the club scene a bit of a twist, Jenk's Club also boasts a lively and fun nightclub where you will find great live music performances, a large dance floor and strobe lights that, when combined, will make you want to get up and dance. Their open-air vibe and seasonal summer atmosphere certainly make Jenk's Club one of the best bar locations on the Jersey Shore. Check out their event calendar here and call 732-899-0569 with any questions on special events.Specialty: Live entertainment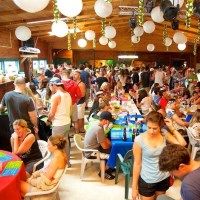 One of the best bars in Lake Como NJ! 
Set up as a modest Irish bar in Lake Como, Paul's Tavern has recently recreated itself and is now known as the single largest indoor bar in Lake Como, as well as one of the largest bars at the Jersey Shore! A number of renovations and expansions have been completed throughout the 35 years since Paul's Tavern has opened, but one thing has never changed, the quality of food and customer service they provide their guests.While you may think that a tavern is only good for a top notch drink, Paul's Tavern aims to prove you wrong. On their food menu you will find specialties such as steak, bar pizza, mozzarella sticks, burgers and a wide assortment of other classic bar dishes. This bar's goal is to serve guests the highest quality food and drinks every day of the year. For more information about the food and drink menus, call 732-894-9640 or visit their website.Specialty: Beer
| | |
| --- | --- |
| Waters Edge | Website | 732-269-3000 |
| 125 Bayview Ave., Bayville, NJ 08721 |  Central Shore Region NJ |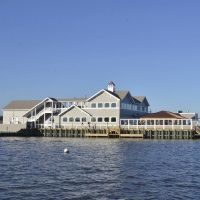 Best waterfront bar in Ocean County 
Navigate your way via land or sea and be prepared to spend the day at Waters Edge, a Barnegat Bay oasis. Mooring buoys and dock slips await Waters Edge's maritime friends, as their complimentary water taxi and dock master guide guests ashore. It's time to relax. Stroll casually across their wooden deck and run your hands across the coppertop bar.Prepare for the perfect pour – Waters Edge mixologists are ready to take your order. Leave the scent of the bay behind as the aroma of Chef James Thumhart's tastings set in. Savor the flavors of your favorite dish, made with only the freshest and finest ingredients. Now is the time to take a seat, watch the tide and take in your surroundings. Leave your to-do lists behind; relaxation is part of your adventure at this shore bar.Spend the night enjoying the sounds of their stars as the sun sets and the nightlife heats up. EnjoyHappy Hour every Monday thru Friday from 3pm to 6pm and Live Entertainment every Thursday (Country Night), Friday Night, Saturday afternoon and night and Sunday afternoon with the areas best bands. View their website for details.Specialty: Live music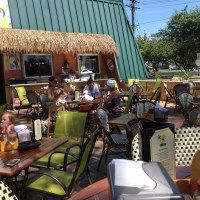 Voted Best Happy Hour in Monmouth County
McGillicuddy's Tap House is located on the scenic Deal Lake in Monmouth County NJ. They were voted one of the best Happy Hours in Monmouth County by the Asbury Park Press. Happy hour specials run Monday through Saturday from 4pm – 7pm, at the bar only. Specials include $2.50 Miller Lite and Bud Light Drafts, $3.50 Well Drinks, $4.50 House Wines, $4 Skyy Vodka and reduced priced appetizers!McGillicuddy's Tap House boasts a fully-stocked bar, 24 beers on tap, a Tiki Bar and Patio Bar, 20 TVs and outside seating overlooking the beautiful Deal Lake. Open year round, they feature live local bands, musicians and comedians every Friday and Saturday night. Come out for delicious food and great drinks all year long! Visit their website for events and food specials!Specialty: Live entertainment
| | |
| --- | --- |
| Riggers | Website | 732-830-9600 |
| 519 Boulevard, Seaside Heights, NJ 08751 |  Central Shore Region NJ |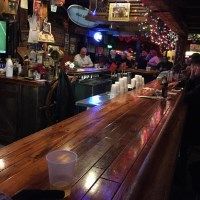 Best dive bar on the Jersey Shore
Riggers, located off the boardwalk and directly on the Boulevard, encompasses the true definition of a Jersey Shore dive bar. This cash only bar is known for reasonably priced drinks, friendly bartenders and an at-home atmosphere, it is not your typical Jersey Shore bar. They're known for their $10 mini shakers which the bartenders can fill with dozens of different specialty shots! Recommended shots include the Marijuana and Jolly Rancher. Their Long Island Iced Teas are definitely the strongest in town, the bartenders are not shy about pouring their liquor! They also have beer specials every night with discounts on pitchers. While enjoying your drink play a game of ping pong, pool or shuffleboard. Their old-school Jukebox allows patrons to choose a variety of songs ranging in genre from classic rock to popular songs of the 80s, 90s and today! If you're looking for a true dive bar experience, Riggers in Seaside Heights NJ is the only place to go on the Jersey Shore.Specialty: $10 mini shakers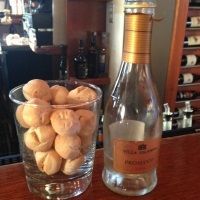 Live music every night!
Steve and Cookie's by the Bay is a sensation bar and restaurant in Atlantic County NJ! Winner of OpenTable's Diner's Choice Award in 2015 and Tripadvisor's Certificate of Excellence of 2014, Steve and Cookie's is raved about by both locals and tourists alike. They're always serving exquisite wines from over 5 different countries including the United States, Italy and France! Enjoy a huge selection of specialty cocktails including The Sensual Sidecar, The Cherry Manhattan, Warner's "Oasis" Manhattan and "Simplicity II" Manhattan.Try some of their entrees including 8oz Cold Water Lobster Tail (broiled or fried), Roasted 1/2 Crispy Duck, Lemon Chicken, Dunedin Filet Mignon with Crab Imperial, Cocoa & Coffee Braised Short Ribs over Pasta and the Featured Fish of the Day! Every day of the week they have a 3-Course Dinner Special for $24. Happy hour is Sunday through Thursday 5-7pm and all night on Wednesdays in the Oyster Bar. Enjoy live entertainment almost every night of the week, including some of the best local jazz musicians.Specialty: Wine and cocktails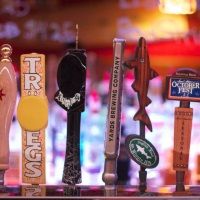 Open 24 hours a day, 7 days a week!
The Boneyard Bar & Grill is tucked into a quiet street just off the bustling boardwalk in Atlantic City. It offers good cheap beer, great bar food and an excellent roster of local and touring bands. If you are looking for a night of good music and a fun atmosphere, this is the place to visit.This bar and venue near the Jersey Shore is a spot where anybody can arrive and have some much needed fun. Whether you are coming for the food, a few beers with friends or to see the live performer of the night, you are sure to make memories that last a lifetime. This "little bar that could" is truly something to experience because, despite sitting in the shadow of The Taj Mahal Casino, they have hosted numerous famous artists and maintained a loyal customer base through top quality service and the availability of 18 taps and 40 beers total. Call 609-348-3360 if you have any questions.Specialty: Live performances
| | |
| --- | --- |
| Due Amici | Website | 732-528-0681 |
| 420 Higgins Avenue, Brielle, NJ 08730 |  Central Shore Region NJ |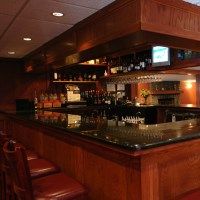 Extensive wine list!
Due Amici is an upscale authentic Italian restaurant located in beautiful Brielle New Jersey. They are a fully equipped restaurant with a huge full service bar. Their house specialty drinks include Bahama Mama, Lynchberg Lemonade, Appletini, Cosmopolitan, Mojito and Frozen Strawberry Daiquiri. They've perfected these drinks and are recommended to all first-time or return customers. Due Amici offers an extensive selection of wines from Italy, California and France. Wines range from Pinot Grigio to Chardonnay, Desert Wines and much more.Due Amici features a live piano man who performs every day of the week. Come out for some of the most authentic Italian food on the Jersey Shore and dine in an unmatched romantic atmosphere. For more information or to reserve a table for a special night out please call 732-528-5994 or you can visit their website.Specialty: Wine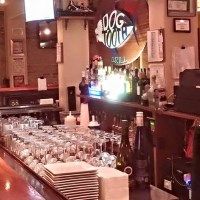 Casual Wildwood, NJ beach bar
Offering happy hour specials every Monday – Thursday from 4 – 6pm and Fridays from 4 – 7pm, Dogtooth Bar is the beach bar you will want to go on your summer afternoons and evenings. They offer a great selection of specials, including $2.50 domestic bottles of beer, discounted appetizers, $1.50 domestic pints and even $2.50 well drinks!With a unique American menu and upscale, yet comfortable, atmosphere, this bar is one place you may choose to come to for more than just drinks. In addition to beers and cocktails, Dogtooth Bar and Grill has a full schedule of events. From specialty food nights such as prime rib on Mondays to game nights where you can play trivia or 52 pick-up, this Jersey Shore Bar is really just a fun place to gather with friends, family or coworkers. For more information regarding drink specials and events, call 609-522-8383.Specialty: Well drinks
Best live entertainment at the Jersey Shore!
Jamian's Food and Drink was recently renovated to include a full service bar and restaurant. Jamian's specializes in unique martinis and shots. Some of the shore bar's well-known and much loved drinks among loyal customers include Arnold Palmer (Ice Tea Vodka with Lemonade), Bumper Crop (Muddled cucumber & mint with Crop Organic Cucumber Vodka, & club soda), "Me Falldown" (Gin Hendrix, lime juice, Fonseca Bin 27, & pear juice) and several more.Wanting to provide guests with a menu that is as superb as their drink list, Jamian's has made it a point to offer delicious dishes such as wasabi beef, shrimp scampi pizza, crab dip mac & cheese and chicken nachos. What makes Jamian's a cool place to go near the NJ shore is their open mic nights which are held every Sunday at 8pm, live entertainment every night and, probably the most unique of all, local art gallery exhibits the first Thursday of every month.Specialty: Martinis
| | |
| --- | --- |
| The Ugly Mug | Website | 609-884-3459 |
| 426 Washington St., Cape May, NJ 08204 |  Southern Shore Region NJ |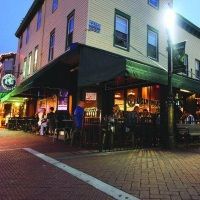 Cool bar with a great vibe
Located just a few blocks from the Cape May, NJ Beach, The Ugly Mug is a bar that you will want to return to time and time again. They are well-known in the area for serving excellent beers, wholesome plates of food and offering guests the ultimate beach tavern atmosphere.Unlike the typical beach bar in NJ, The Ugly Mug is a tavern, focusing primarily on serving guests the best quality draught beer available. Here you will find a selection of ales, all served in, as their name indicates, a mug! The relaxed atmosphere gives tavern-goers a nice place to meet up with friends, enjoy classic bar and beach dishes such as burgers, fish and chips or lobster rolls and simply unwind after an eventful day in the ocean. Additionally, The Ugly Mug will occasionally have live entertainment, making it a go-to destination for night owls who want something fun to do on the weekend.Specialty: Draught beers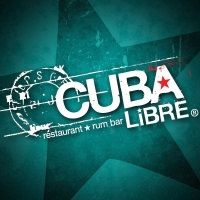 Open until 4am on weekends!
Cuba Libra Restaurant and Rum Bar is open for lunch and dinner daily, serving their customers the best Mexican drinks and food this side of the border! They pride themselves on having some of the best mojitos, spirits, tropical cocktails and rum punch in the area and will often recommend that guests try their Sunburn 11, Zombie 13 or Grilled Pineapple mojito.On the weekends this NJ shore bar transforms into a fun, entertaining and lively Latin dance club. Open until 4 am every Friday and Saturday night, this bar is the hot spot for everyone seeking out late night Latin entertainment in Atlantic City. These dance parties are sure to be memorable because there isn't much more you could ask for: great drinks, awesome Mexican cuisine, friends and music that can be enjoyed into the wee hours of the morning! For more information regarding the bar, call 609-348-6700.Specialty: Mojitos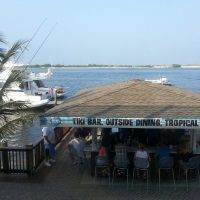 Best waterside dining on the Shore
Windansea Bar and Restaurant boasts some of the best dock and dine, water views and entertainment throughout the summer! Their bar offers over 20 different beers on tap, a variety of bottled beer, several wines and delicious cocktails that you can enjoy on their outdoor patio or Tiki Bar, as well as their inside seating. Enjoy live bands and DJs all summer long!Windansea Bar and Restaurant is also known for some amazing food. Customer's favorites include the Lobster & Avocado Cocktail, Gulf Shrimp & Grits, Swordfish, Bone-in Pork Ribeye and Panko & Provolone Encrusted Chicken. Private party packages are available for your next event or for your special day, ranging from banquets and cocktail hour to buffets. Entertainment information can be found online or call 732-872-2266.Specialty: Wine
| | |
| --- | --- |
| Squan Tavern | Website | 732-223-3324 |
| 15 Broad Street, Manasquan, NJ 08736 |  Central Shore Region NJ |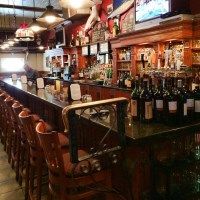 Quiet and cozy bar in Manasquan NJ
Journey down to the Central Shore Region and visit the Squan Tavern, located in gorgeous Manasquan NJ! Equipped with a full service bar and restaurant, they specialize in beer and wine, from non-alcoholic beer to the best of drafts! They artfully craft various shots, martinis and unique cocktails you won't find in most Jersey Shore taverns.Squan Tavern is open 7 days a week with drink and food specials changing daily. Pair your beer or cocktail with any one of their delicious menu items. Customer's favorite dishes include Zucchini Marinara, Chicken Tyler, Veal Caprese, Baked Shrimp Parmigiano and Spinach Ricotta Gnocchi. Outdoor seating is available for the spring and summer seasons. Call ahead for daily special 732-223-3324, or visit their website.Specialty: Beer and wine
| | |
| --- | --- |
| Edgars Pub | Website | 732-449-4114 |
| 153 Sea Girt Avenue, Manasquan, NJ 08736 |  Northern Shore Region NJ |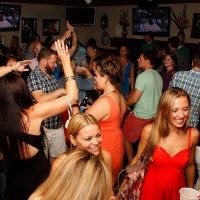 Traditional Irish Pub on the Shore
Manasquan, NJ is home of one of the best Irish pubs on the Jersey Shore, Edgars Pub. The Pub features a friendly, casual and warm atmosphere with a touch of the party vibe. Almost all local residents flock to Edgars Pub on a weekly basis, but first-timers are more than welcome. Beer and specialty shots are their forte. The crowd favorites are either the Cosmo Martini or Sea Girt Lemonade, served in a mason jar. Gluten-free vodka is also available for your special dietary needs!The Pub boasts extensive lunch and dinner menus with items randing from burgers to seafood, sandwiches, and more. Dinner specials every day including 2 for 1 burgers, half price apps and fajita nights. Edgar's Pub is equipped with 16 brand-new flat screen TVs, which makes it the perfect spot to watch the next game! Entertainment and events every single weekend! For more info please visit their website or call 732-449-4114.Specials: Sea Girt Lemonade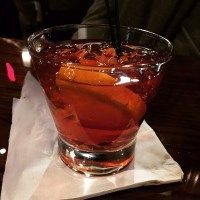 Best Jersey Shore ale house!
Robinson Ale House is a fantastic and luxurious bar in Red Bank, NJ. This bar is known for its pleasant atmosphere, respectful staff members, good food and, most of all, their drinks! With a drink list including martinis, cocktails, draft beers, after dinner drinks and coffee drinks, Robinson Ale House has a little something for everyone, drink lover or not.Happy hours at this NJ Shore bar are certainly something to come out and experience. You and your friends can indulge on half priced appetizers, $6 house wines, $5 house drinks, $3 Coors Light and PBR drafts or $2.50 Miller High Life bottles! Don't miss out on the fun every Monday through Friday from 4 – 7pm! For more information about the shore bar as a whole, or to have your questions regarding the menu and events answered, visit their website or call 732-383-8219. Open 7 days a week and available for large parties as well!Specialty: Martinis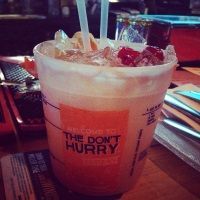 Best martini selection in Monmouth County NJ!
Dive! Costal Bar & Food Joint is the home of the best rum bucket on the Jersey Shore, as well as a large variety of infused cocktails. The bar features more than 18 beers on tap including a selection of craft beer from local breweries. Their list of wines and cocktails is unsurpassed by any bar in the area. Signature drinks include the Watermelon Martini, The Krispy Kreme Tini, Pumpkin Pie Martini, Mounds, Green Tea and The Perfect Gentlemen. Freshly popped popcorn is always available at your table or bar counter.Stop by and try their Lobster Mac and Cheese, Jalapeno Cheese Dog, Beer Battered Fish and Chips, Malt Vinegar Fries or Meatless Beach Burger. Come out for Happy Hour weekdays from 4-7pm. Karaoke every Thursday starting at 9pm. Sunday is Brunch and Bloody Mary's from 11am-2pm. Sunday football specials on drinks and food all season long! Outdoor seating is available during the spring and summer. Visit the website for hours and specials.Specialty: Martinis & cocktails
| | |
| --- | --- |
| The Headliner | Website | 732-775-6200 |
| 1401 New Jersey 35, Neptune City, NJ 07753 |  Central Shore Region NJ |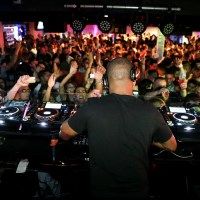 Shore Bar open all year!
The Headliner, located in Neptune NJ, is the perfect location for the younger crowd with huge events and entertainment happening daily! Their indoor night club is high-energy all the time! Considered a favorite by locals and visitors, because of its top-notch entertainment lineup, hospitality, drink specials and special events! Check out their all-new Vodka Room, fully stocked with every kind of vodka from Grey Goose to Belvedere, Purity and many more! Their special fridge system chills the vodka to the perfect temperature! Their signature Outdoor Deck makes it the perfect Jersey Shore Bar!Specials happening daily including TGIF happy hour, Sunday football specials, Monday Funday and Ladies Night every Saturday. Relaxed dress code Sunday through Friday, weekend dress code a bit stricter, visit the website for specific information. Live music and bands every night! Private rooms and bottle service are available. For hours of operation please call 732-775-6200.Specialty: Bottle service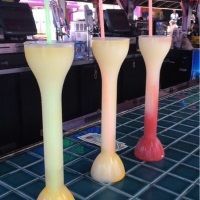 Large outdoor pier and private beach!
Martell's Tiki Bar is located directly on the Point Pleasant Beach Boardwalk. The Tiki Bar boasts a large outdoor bar area with the stage and pier extending into the water. Customers can lounge in the private beach area and enjoy your drinks in the sand! World-famous Martell's is home to the best happy hour on the Point Pleasant Boardwalk!Martell's Tiki Bar hosts live entertainment almost every night during the summer on their outdoor stage. Come out to see some of the best local bands and DJs! Sit back, relax and enjoy the music or get up and dance under the stars. They also offer event hosting, have your next birthday or family reunion at Martell's! Dress code required. For more information about events or entertainment please check out their website, or call 732-892-0131.Specialty: Tropical drinks and beer
| | |
| --- | --- |
| The Beach Bar | Website | 732-869-0008 |
| 1300 Ocean Avenue, Asbury Park, NJ 07712 |  Northern Shore Region NJ |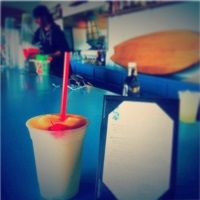 One of the best shore bars in Asbury Park!
The Asbury Park Boardwalk is situated on NJ's shoreline and features numerous attractions, restaurants and bars. The Beach Bar is considered a backbone of Asbury Park, a core element of its very soul because it is a place so many people flock to for socialization, events and fun. The Beach Bar helped to catapult this metropolis to the leading edge of American music, earning its own spot among many other popular music locations such as New Orleans, Detroit and Nashville.With its fresh visual appeal, luxurious bar, live entertainment and ability to bring people together, The Beach Bar will forever be a boardwalk attraction for young adults. They offer all of the drinks you might expect from a bar including beer, whiskey and, of course, cocktails, but it isn't necessarily the drinks people visit this shore bar for; they often return for the lively atmosphere and good company.Specialty: Rum buckets
| | |
| --- | --- |
| The Spot | Website | 732-701-8303 |
| 1506 Richmond Ave., Point Pleasant Beach, NJ 08742 |  Central Shore Region NJ |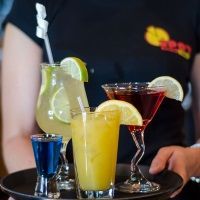 Huge selection of martinis and cocktails!
The Spot Pizza and Grill is located right off of Route 88 in Point Pleasant NJ! The bar features over 20 beers on tap and many craft beers, both seasonal and year-long, to choose from. Besides beer, they also offer some kooky and creative cocktails such as the Georgia Peach, Root Beer Float, Jersey Heartbreak or Planters Punch. They also carry wine, martinis and a fine whiskey collection. Happy hour is Monday through Friday 3-6pm or stop by for Night Owl specials beginning at 8pm.Local musicians and bands perform several nights a week. Come by for Texas hold'em competitions and karaoke on Saturday nights! Outdoor seating on their beautiful deck is available during the spring and summer. Visit the website for more details on their specials and upcoming events!Specialty: Creative cocktails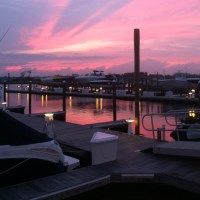 Known for exceptional views!
EvenTide Grille, a restaurant and bar in the Navesink Marina, in Sea Bright NJ provides year-round seaside fun and entertainment. The name "EvenTide" refers to dusk or sunset and alludes to the calm water of the beautiful Shrewsbury River. They're famous for the amazing sunsets you can view from both the bar, indoor or waterfront seating. Stop in for Happy Hour every Monday – Friday from 4pm – 7pm and enjoy half price house drinks, house wines and selected appetizers, plus $1 off all other drinks!Every Friday and Saturday come out to EvenTide Grille for live music, new artist every weekend! If you have a talent you'd like to show off, come out for Wednesday open mic nights! Thursdays feature trivia, bingo and name that tune – play for great prizes! Come out for a night of great fun on the Shrewsbury River in Monmouth County!Specialty: Sunset views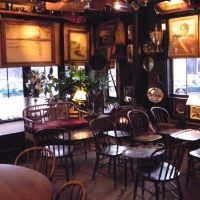 Year-round Jersey Shore bar!
Located on Main Street, just two blocks from the beach, sits Boathouse Bar and Grill, a low key and cozy bar. A variety of patrons flock to the Boathouse Bar and Grill for a night of drinks, live music and dancing. Several nights a week local DJs turn Boathouse into a dance party! Other nights, local bands perform and the crowd can enjoy a low-key night at the Shore.The Boathouse Bar and Grill is also a full-service restaurant serving up delicious food. Regular specials include $7.99 Pint and Pound every Monday, $.50 cent wing night on Wednesdays with $1 beers to pair and several drink specials daily. Come out for live entertainment almost every night. Open year-round until 2am for your convenience. Visit the website before you come out for daily specials and entertainment.Specialty: Live entertainment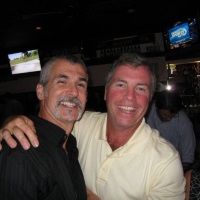 Cool sports bar in Bradley Beach, NJ
If you are a sports fan, this is the shore bar you will definitely want to visit. They show almost all of the international soccer games and occasionally have live sports entertainment that you can watch while enjoying a nice cold beer or drink.Some of the best beer specials can be found at D'Arcy Tavern's happy hour, Monday – Friday from 4 – 6pm. They offer $2 domestic pints for all USA national teams, $2 retro cans, including Miller High Life and Pabst, as well as Thirsty Thursday and Footy Sunday specials. Additionally, if you are looking for a good bite to eat while relaxing and watching a game, D'Arcy's Tavern has a large menu with plenty of options to choose from. Whether you are looking for something simple like cheese burger sliders or a more unique item such as filet mignon sliders, this bar has it all.Specialty: Live soccer daily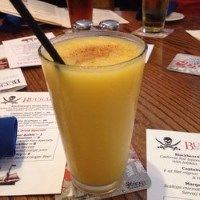 A bar serving great comfort food
Just blocks away from the beach in Beach Haven, NJ, Buckalew's Restaurant and Tavern has both beer and wine lists that will leave you speechless. Offering about 20 different kinds of beer, you will find beers ranging from traditional Yuengling lagers and Budweiser to English style IPAs such as Goose Island IPA and German lagers including Leinenkugel's Big Butt Doppelbock. On this shore bar's wine list, you will find domestic and imported bottles, all available by the glass, half bottle or full bottle.Buckalew's doesn't stop the fun simply with drinks, their happy hour specials are from 4 – 7pm Sunday – Friday, not only offering drink selections, but also offering great comfort food dishes as well. Additionally, they have live entertainment every Saturday and Sunday. With local artists coming out and getting on stage, you can have fun, socialize and experience the tavern for what it is: a casual, laidback tavern that is only mildly beachy in feel.Specialty: Live entertainment
| | |
| --- | --- |
| The Shrimp Box | Website | 732-899-1637 |
| 75 Inlet Drive, Point Pleasant Beach, NJ 08742 |  Central Shore Region NJ |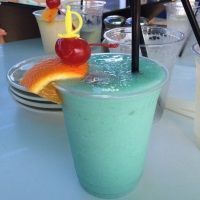 Amazing seafood and drink specials!
The Shrimp Box is located in the Marina section of beautiful Point Pleasant NJ! Stop in for quick drink or stay awhile and soak up some sun on their outdoor patio, which offers the best outdoor dining in the Central Jersey Shore region. The Shrimp Box offers a full scale bar where the bartenders mix up a large variety of tropical and exotic drinks to compliment the warm summer sun. Their specialty drinks include frozen margaritas and daiquiris such as the Killer Colada or the Dirty Banana.The Shrimp Box also has a fully functioning restaurant serving the best seafood on the Manasquan. Some Shrimp Box favorites include Four Way Shrimp, Chicken Marsala, Captain's Platter, Cajun Swordfish and Honey Glazed Salmon. They also offer an extensive raw bar. For more information please call 732-899-1637 or you can visit their website.Specialty: Frozen drinks
| | |
| --- | --- |
| The Irish Pub | Website | 609-344-9063 |
| 164 St. James Place, Atlantic City, NJ 08401 |  Southern Shore Region NJ |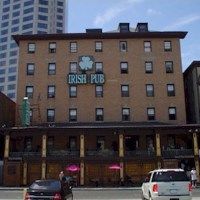 Best selection of Irish beers on the Shore!
Named by several magazines as "America's Greatest Pub," The Irish Pub is raved about by almost everyone who walks through their doors. Conveniently located just a block away from the beach and boardwalk, The Irish Pub is the place to spend an afternoon or evening down the Southern end of the Jersey Shore. For over 70 years this beach-front pub has been serving up authentic food and drinks to its patrons. Enjoy their large selection of Irish beer on draft including Harp, Bass, Killian's, Murphy's and Yuengling.Head down on a Friday for their signature Outrageous Fridays! Happy Hour is from 5-8pm with $2.50 select domestic draft pints and a discounted appetizer menu. A favorite of locals and celebrities alike! One of Willie Nelson's favorite restaurants in New Jersey!Specialty: Irish beer
| | |
| --- | --- |
| 709 Point Beach | Website | 732-295-0709 |
| 709 Arnold Ave., Point Pleasant Beach, NJ 08742 |  Central Shore Region NJ |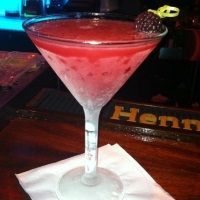 Cocktails and Coastal Cuisine
709 specializes in creative cocktails, exceptional sushi, fresh coastal cuisine and extravagant private parties. Come in for Happy Hour specials Monday through Friday 4-7pm and Saturday 1-4pm. Many of their specialty drinks are seasonal, which allows their cocktail menu to change regularly. 709 also offers seasonal sangria and an awesome selection of cocktails. Their signature cocktails are served all year long and include the Jersey Shore Reviver, the Sea Devil and several more.Pair your cocktail with any of their fresh and delicious specialty dishes from their lunch, dinner or sushi menu. Daily menus feature soups and salads along with Mini Chicken Meatballs, Baked Clams Oreganata, Australian Rack of Lamb, Old Bay Shrimp and Garlic Tagliatelle and gourmet pizza. They also have an extensive sushi menu! They're open for lunch, dinner and Happy Hour 7 days a week!Specialty: Cocktails
| | |
| --- | --- |
| The Downtown | Website | 732-741-2828 |
| 10 West Front Street, Red Bank, NJ 07701 |  Northern Shore Region NJ |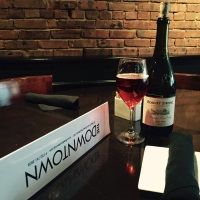 Cool pub in Monmouth County
As one of Monmouth County's best pubs, The Downtown is a lively place with a rock and roll feel. Specializing in cocktails, this shore bar suggests that any newcomer makes it a point to try one of their signature drinks. Some of the bar's signature drinks include The Downtown Margarita, made with Tanteo jalapeno tequila, fresh lime juice and agave nectar and Vodka 'n Grapes, a cocktail made with Ciroc vodka and white wine grape juice, garnished with 3 frozen grapes.Offering live entertainment to add to the fun of The Downtown, you can catch bands performing most nights of the week. If you are outgoing and wish to be the one up on stage, you might consider signing up for their open mic night or get your groove on during their Country Thursday hoedowns. Whether you are a rock and roll fan, country fan or simply looking for a cool place with exquisite drinks, this bar within driving distance of the NJ beaches is the place you'll want to go.Specialty: Blackberry Cosmo
| | |
| --- | --- |
| Buona Sera | Website | 732-530-5858 |
| 50 Maple Avenue, Red Bank, NJ 07701 |  Northern Shore Region NJ |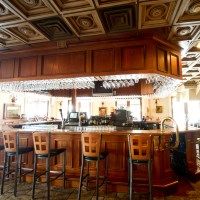 Italian restaurant and wine bar in NJ
Established in 1998, Buona Sera is an Italian ristorante with a unique and extensive bar. Located in the heart of Red Bank, NJ, many people enjoy spending the day shopping and relaxing with a meal and drink at Buona Sera afterwards. They offer a premium and elegant list of wines coming from over twelve different countries. Wines come from everywhere; from right here in the USA to Germany, New Zealand, Italy, France, Argentina, Australia, Chile and many other places!Additionally, Buona Sera serves some of the best authentic Italian food in the state, perfect for pairing with a glass of wine. Some of their highlighted dishes include tuna au poivre, stuffed rigatoni, pork giambotta, boneless chicken savoy and 20 oz. Angus beef ribeyes. For more information, call 732-530-5858.Specialty: International wine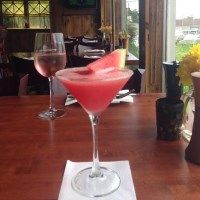 Best bar in Manasquan!
Harpoon Willy's is located on the scenic Manasquan River in Manasquan NJ! This Jersey Shore staple is a refuge for locals during the summer season, but they are open year round. Just a few blocks from the shore, come in after a day trip from the beach or for a night out to enjoy the scenery. Come in any time of the year and enjoy artfully crafted and refreshing cocktails while taking in the beautiful sunset over the river. Local bands perform live several nights a week!Aside from being known for their friendly atmosphere and amazing drink selection, they've also been known to serve up some of the best tavern food on the Jersey Shore. Enjoy local tavern staples such as burgers, nachos and wraps; or come back time and time again to enjoy the fresh raw bar or local seafood stables including Oysters Rockefeller, Lobster Casino or Seafood by the Pound.Specialty: Cocktails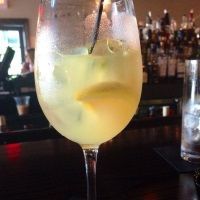 Best cocktails on the Manasquan River NJ!
The Shipwreck Grill is located near the Manasquan River in beautiful Brielle NJ. Casual yet elegant, this establishment is known for their excellent Martinis, Sangria and wine selection. Signature martinis include House Barrel Aged Manhattan, Pomegranate and Orange Cosmo, Bourbon Bramble and many more, they also offer seasonal cocktails. Sip on a glass of wine while taking in the beautiful view of the river, Shipwreck Grill offers over 50 different wines and champagnes. Their beer listing includes a variety of draft and bottle selections.The restaurant boasts some of the best food on the Manasquan River. Dine on their outside patio for the best views and most romantic atmosphere. Enjoy freshly cut steaks, seafood delivered daily, a raw bar and so much more. Come in for live jazz music every Thursday with select wines for $25 per bottle! Make your reservation online or by phone.Specialty: Shipwreck Sangria
| | |
| --- | --- |
| Spicy Cantina | Website | 732-793-4777 |
| 500 Ocean Terrace, Seaside Heights, NJ 08751 |  Central Shore Region NJ |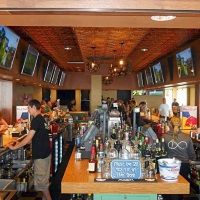 Two story shore bar!
Spicy Cantina is about more than just good food and drinks; it is about living positively, decent conversation at the bar with friends, making new wonderful memories and taking time for you to relish the good life. The building features are two levels, each one distinct in ambiance and presentation. On the Boardwalk level you will discover a warm tavern and food court with attention-grabbing offerings like an assortment of pizza, grilled panini's, cheese steaks and much more!On the second level you are going to find an enjoyable, full-service Mexican restaurant with an Italian fusion spin along with a remarkable scene of the sea and shoreline. The stunning Atlantic Ocean and the white beach sand never appeared so good while you unwind at the bar or tables in this casual, full-service bar that highlights Mexican as well as Italian-American infused specials and fresh-squeezed, all berry extraordinary margaritas! For more information you can call the Spicy Cantina at 732-793-4777.Specialty: Cocktails and beach drinks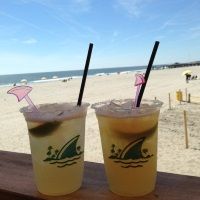 NJ shore bar open all year!
Landshark Bar & Grill is a top of the line bar located in beautiful Atlantic, City NJ! Owned and operated by Jimmy Buffett's Margaritaville, Landshark Bar and Grill offers the best beer in the southern portion of the state.This is the only full service bar in Atlantic City that is directly on the beach. They offers some of the best tasting food in NJ with burgers, hot dogs, sandwiches, salads, sides and specialty desserts all available on the menu! They truly have something for everyone, with dishes ranging from fish tacos to Landshark Cheeseburgers and Philly Cheese steaks! It's 5 O'Clock Somewhere specials are offered Monday through Friday from 3 – 6pm. The Little Sharks menu is available to children and includes items such as grilled cheese and fried shrimp! For more information, call 609-431-4120.Specialty: Margaritas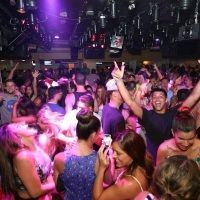 Volleyball courts on premises!
Featuring a full scale bar, restaurant and nightclub, Bar A is known for their amazing drinks and wild night life. Offering specials every day of the week including 2 for 1 Burgers on Monday nights or complimentary Buffet on Thursdays. They also offer occasional specials such as Beat the Clock almost every weekend. At 8pm beers start at just $.50 and every hour the price increases by $.25. Bar A was named in the Top 100 Nightclub/Bars in 2011 by Nightclub.com.Bar Anticipation is located right across the street from the Belmar beach, which gives patrons the option of indoor or outdoor bar settings. Bar A is home to 3 full-sized Olympic sand volleyball courts, come out for an afternoon of beach-side volleyball or join a league. The bar features live entertainment almost every night of the week! Weekly "Blue Plate Specials," only $4.95. Wings are available in over 10 different flavors ranging from Plain to Sweet Chili and Pepper Spray. Come out for beachside Brunch on Saturdays and Sundays. Please check their dress code before attending! For more information check out their website, www.bar-a.com or call 732-681-7422.Specialty: Beer and shots
| | |
| --- | --- |
| The Sawmill | Website | 732-793-1990 |
| 1807 Boardwalk, Seaside Park, NJ 08752 |  Central Shore Region NJ |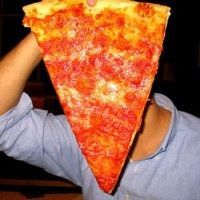 A Jersey Shore Tradition!
The Sawmill has been a Seaside Heights Boardwalk staple since 1977. Sit at the bar or their indoor seating and enjoy unobstructed views of Seaside Park Beach and the Atlantic Ocean. Enjoy Happy Hour specials Monday through Sunday from 3pm – 7pm on select foods and martinis, as well as $5 Slice & A Pint. The Sawmill is known for their Frozen Delights, Crushes and Cocktails. Signature drinks include Frozen Margarita, Watermelon Crush, Dirty Banana and many more!Besides their delicious drinks, The Sawmill is also famous for their giant, 27 inch pizza, a Seaside Heights and Jersey Shore tradition! Not that hungry? Try their gourmet pizzas or new salads and entrees. Open year-round come out in the offseason for the food, come during the summer for exceptional drinks!Specialty: Crushes, cocktails and frozen delights
| | |
| --- | --- |
| Watermark | Website | 732-455-3447 |
| 800 Ocean Ave., Asbury Park, NJ 07712 |  Northern Shore Region NJ |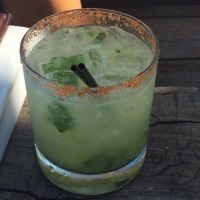 Exclusive waterfront bar in Asbury Park
The Watermark is known to be the most elegant bar in Asbury Park, NJ! They have several expert mixologists on staff who beautifully and perfectly craft signature drinks. Their culinary approach to cocktails gives them an edge above any competition. Many of their signature drinks are made from spirits which are infused in-house and juices are always freshly squeezed ensuring consistency and quality. Their wine list is a product of close collaboration between the bartenders and the in-house sommelier to selectively include wines from the world's premier wine growing regions. Their bottled beer selection features the most popular brands and a rotating selection of seasonal beers from micro-breweries. Head down to the Asbury waterfront for a night of live entertainment in an unmatched atmosphere with artfully crafted cocktails. Visit the website for special events.Specialty: Cocktails and wine
| | |
| --- | --- |
| The Wine Loft | Website | 732-222-7770 |
| 32 Laird Street, Long Branch, NJ 07740 |  Northern Shore Region NJ |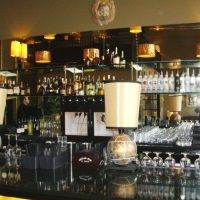 Best wine in Central NJ!
Created out of their love of fine wines and great music, The Wine Loft has turned out to be the exceptional evening spot in Pier Community, Long Branch, NJ. Their specialty, as their name suggests, is wine. With one of the largest selections of wine in the area, The Wine Loft has both local and foreign wines, providing something for everyone.From dry to sweet, red to white and foreign to domestic, everyone can find a wine that suits their palate. However, that's not all The Wine Loft features. In addition to wine, you will find specialty drinks such as Mangolicious, The Dobel, sangria and a sexy 3 olive martini. If you are looking for food to pair with your drink, The Wine Loft also features a variety of small plates with everything from spinach and artichoke dip to roasted cod.Specialty: Wine
| | |
| --- | --- |
| Bamboo | Website | 732-830-3660 |
| 201 Boulevard, Seaside Heights, NJ 08752 |  Central Shore Region NJ |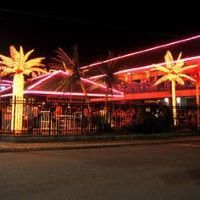 Open year round!
If you're looking for the coolest club down the New Jersey Shore, head to Bamboo in Seaside Heights NJ. Bamboo boasts both an indoor club open year round and an outdoor bar open seasonally! Just blocks from the Seaside Boardwalk, this is the best night club in the area for a younger crowd. Bamboo has one of the biggest dance floors in the area with live DJs spinning the latest dance music until 3am! Become a VIP member and enjoy all the perks including no cover charge!Special events happening every weekend including Ladies Night every Saturday. Host your next birthday party, Bachelorette party or grab all of your friends for a night of fun at the Jersey Shore! Open Friday and Saturday nights 4am! Hours are subject to change, please call 732-830-3660, to ask about Happy Hour.Specialty: Ladies nights
| | |
| --- | --- |
| Taste | Website | 732-219-9770 |
| 10 Bridge Ave., Red Bank, NJ 07701 |  Northern Shore Region NJ |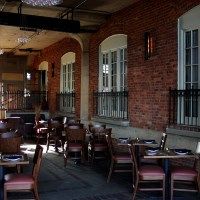 One of the best bars near the shore
Taste, located in the heart of Red Bank, NJ, is an elegant and sophisticated wine bar, cafe and lounge where people are invited to sit, relax and enjoy a drink. With complete knowledge of many kinds of wine, Taste offers something for everyone. Whether you prefer reds or whites, bitter or sweet, they will have something that will please you.If wine isn't your drink of choice, they do offer a selection of cocktails and mixed drinks that are fruity and worth the consideration. In addition to their drinks, the staff at Taste boasts about their outdoor patio which is shaded by an awning and makes this NJ shore bar one of the best places to spend an afternoon. In the evenings, everyone is invited to bring their drinks indoors for Taste's live entertainment performances. Gather with friends, listen to great music and enjoy a drink made from only the best ingredients.Specialty: Wine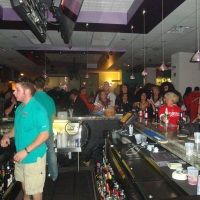 An island paradise in Southern NJ
Located in North Wildwood, Flip Flopz Beach Bar and Grill is one of Cape May County's best beach bars. They are located only blocks from the beach and serve everything from beers and wine to traditional and frozen cocktails, the options at this bar are endless. Escape to paradise for the day.This is definitely a beach bar you can hang out in for hours on end. They typically have live music, DJs and entertainment, making this one of the best bars to visit later in the evening. Their happy hour specials, which run from 3 – 7pm on Monday and Friday nights are very enticing. In addition to the great atmosphere that drew you to this bar, you can get $3 beers, discounted food and other great deals during their happy hour! To learn more about Flip Flopz Beach Bar and Grill, visit their website or call 609-522-3350.Specialty: Frozen cocktails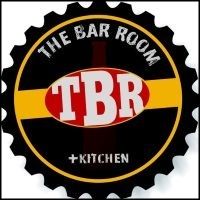 Old school neighborhood shore bar
Located in Deal, NJ, The Bar Room and Kitchen is a small shore bar with great food, excellent drinks and awesome people. Whether you are a first time visitor or a repeat customer, you are sure to enjoy the warm and inviting atmosphere. The friendly staff will help you understand the menu and decide what you would like to eat or drink.This casual shore bar is small but welcoming. Their full bar serves every kind of drink imaginable. It doesn't matter whether you are a fan of a good beer or well-made cocktails, they will have something for you on the menu. Additionally, The Bar Room and Kitchen has a small food menu, featuring select dishes that are sure to curb anyone's appetite. One of their choices that many people rave about are their burgers. However, if you aren't a fan of red meat, or you are not in the mood for a burger, they also have seafood and chicken options. Call 732-686-1295 for more information.

Specialty: High quality beer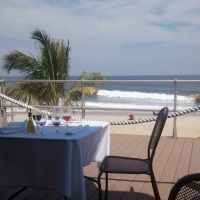 Classy bar in Pier Village!
Sirena Ristorante, located in Long Branch, NJ is one of the classiest bars with the most breathtaking views in the area. Serving lunch and dinner with an exceptional wine list, guests can enjoy waterfront views, natural light and a specialty drink or glass of wine. Some of their featured dishes include pasta pomodoro, branzino, fluke francese and pork Diavolo.Their wine list is composed of one of the best collections of whites and reds in the Central NJ area. At this shore bar you will find favorites such as chardonnay, Riesling, cabernet and chianti, all available for purchase by the glass or the bottle. Additionally, you will find cellar wines, champagnes and even select vintage wines. This is definitely a bar and restaurant to visit if you are a wine aficionado looking for a wide range of options.Specialty: Outdoor waterfront seating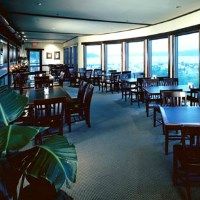 A Central NJ bar on the water
Salt Creek Grille, located in Rumson, NJ, is more than just a waterfront restaurant. At 4pm every day, the restaurant opens up its bar and becomes a go-to destination. The sophisticated elegance of this NJ Shore Bar, paired with the breathtaking waterfront views, creates a serene atmosphere that you will definitely return to more than once.Every Monday through Friday from 4 – 6:30 pm, Salt Creek Grille hosts a happy hour where you and all of your friends are invited to socialize over quick drinks and wholesome food. With live entertainment on the weekends and weekday specials such as 1/2 price wine by the glass or bottle, 1/2 price draft beer and even Sunday brunch, you would be able to visit this bar any day of the week and have a good time. Call 732-933-9272 if you have any questions regarding the happy hour specials and happenings.Specialty: Happy hour specials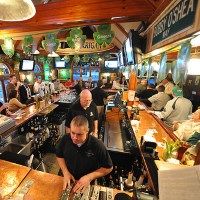 Huge selection of craft beers!
Harrigan's Pub is located just two blocks from the water in beautiful Sea Girt NJ and is proud to be the premier Irish pub on the Jersey Shore! They serve over 40 craft beers, perfectly pour Guinness Pints and feature an outstanding wine menu. Just a few examples of their excellently brewed craft beers include Redd's Apple Ale, Wells Banana Bread, Boddingtons Pub Ale, Magic Hat Howl and Blue Point Toasted Lager.Happy Hour is every Monday through Friday from 3 – 6pm at the bar only. Happy Hour specials include $1 off martinis, $2 domestic drafts, $4 craft drafts and house wines, $5 appetizer menu and several more. Come out for live entertainment every Saturday, featuring both Irish bands, Rock bands, singers and more! Every Tuesday is Stump Trivia, players can enjoy 1/2 price appetizers and team members from the winning team receive prizes! For more information call or visit their website.Specialty: Guinness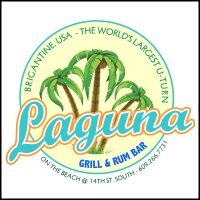 Breathtaking views of the Atlantic Ocean!
For your perfect day with breathtaking scenes of the Atlantic Ocean, visit Laguna Grill and Rum Bar in Brigantine, NJ. Enjoy elegant cuisine with panoramic ocean scenery and choose a meal from their extensive menu. They feature a range of special entrees, exclusive side dishes and delicious desserts.One of this shore bar's key attractions, the thing that draws people in and brings them back time and time again, is the outdoor patio and dining option. During the spring and summer months guests can sit outside, chat with friends and enjoy a specialty frozen drink such as Laguna Rum Runner, Bahama Mama or a mango lime margarita. For more information about seasonal specials, hours of operation or events, call Laguna Grill and Rum Bar at 609-266-7731 or click here to visit their website.Specialty: Frozen margaritas
A truly unique bar in Asbury Park, NJ
Open every day from 11am – 2am, Johnny Mac House of Spirits is an unmistakable landmark to the area. With a full bar serving top quality beer and cocktails, there is most certainly something for everyone. Their list of specials is just one of the reasons many people return time and time again. Depending on the day of the week, you may be able to enjoy a $3 Mimosa or Bloody Mary, $2 Miller Lite or another great special unique to the events happening on premises.In addition to the great drinks and outstanding daily specials, Johnny Mac House of Spirits also has sensational food and an outlandish atmosphere. Walking into this NJ Shore bar is sure to give you something to remember. From the multiple signs and flyers all over the walls, to the cozy hardwood floors and dim lighting, you will feel as though the bar is home. It is comfortable and casual, perfect for relaxing in the evenings or on weekends.

Specialty: Beer and pizza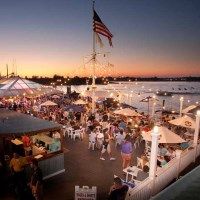 Nestled behind the Wharfside Restaurant!
Wharfside Patio Bar is nestled just behind the Wharfside Restaurant on Channel Drive in Point Pleasant NJ, right on the Manasquan River! They offer some of the best cocktails on the East Coast with selections including Black and Blue Lemonade, Orange Crush, Tiki Tea and Escondido! Their rum buckets are some of the best in Point Pleasant! Daily beer and drink specials and live entertainment every day!Warfside Patio Bar is the winner of the Asbury Park Press "One of the Best in Ocean County" in 2011. Enjoy live entertainment from local and popular New Jersey bands on their outdoor stage. Ample seating is available at the bar and tableside. Call ahead for daily special 732-892-9100, or visit their website. Step away from the noisy Boardwalk crowd and enjoy the sights and sounds of the Jersey Shore on the tranquil Manasquan River and Inlet Islands.Specialty: Frozen cocktails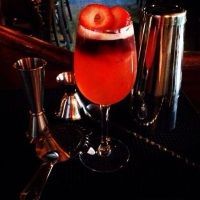 Top notch bar in Southern NJ!
Perfectly Innocent Amusement Co. is widely known in the Southern Shore Region of NJ for their amazing cocktails, craft beers and perfect customer service. Some of their featured drinks include Moscow Mule, Planet of the Apes, Hawkeye, Monks Gone Wild, Post 33 and Town and Country, all made with rum, vodka, tequila or gin. However, if hard liquor is not your first drink of choice, consider trying one of their craft beers. Options include Clown Shoes Clementine, Anchor Cali Lager, Avery Ellis Brown Ale and ErdingerHefeweizen.In addition to the awesome drinks, they have a wide selection of food. Items on the menu include grilled cheese, fluffernutter, duck confit bahn mi and a meatloaf cheeseburger, among other things. Open Monday through Thursday 5pm – 3am, Fridays 5pm – 4am, Saturdays 6pm – 4am and Sunday 6pm – 3am, this is definitely the bar to hit up if you are in Atlantic County NJ. Click here to learn more about the bar's cocktails.Specialty: Cocktails and craft beers
| | |
| --- | --- |
| Ader's Tavern | Website | 732-888-1634 |
| 1321 Florence Avenue, Union Beach, NJ 07735 |  Northern Shore Region NJ |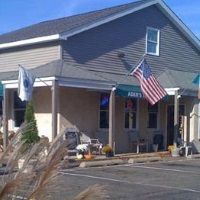 Best tavern in Union Beach NJ! 
Established in 1962, Ader's Tavern prides itself in providing their customers with the ultimate food and drink options in the Central NJ area. They offer a superb dining experience for every occasion and serve everything from soft drinks to beer, cocktails and shots! One of their specialty breakfast items, often recommended, is their steak and eggs with either a Screwdriver or Bloody Mary.Try their specialty dishes such as the mozzarella and prosciutto panini, homemade chili, Ader's Burger, Old Bay Fries and more! Daily specials such as Monday night $2 domestic pints and Wednesday pasta nights with all you can eat pasta for $10, make this a go to bar at the shore. This bar even has a dance floor so you can let loose and relieve stress in a fun atmosphere! For more information about this bar in Monmouth County, call 732-888-1634.

Specialty: Cocktails and beer
| | |
| --- | --- |
| D'Jais | Website | 732-681-5055 |
| 1801 Ocean Ave., Belmar, NJ 07719 |  Nothern Shore Region NJ |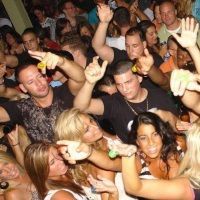 Best signature drinks in Belmar NJ!
D'Jais, home to the best night life in Monmouth county NJ, is located on beautiful Belmar Beach. The bartenders serve up uniquely crafted signature drinks, wine, beer, shots and cocktails daily. Try their specialty drinks including the Cactus Berry Margarita or their White Sangria. They also offer delicious and refreshing Banana Daiquiris, Cucumber Lemon Mojito, Salty Pirate, Lemon Drop Martini and Bloody Mary's.D'Jais has exclusive happy hour specials daily such as buckets of Coronitas, buckets of Rocks and Shot and a Rock. Friday Happy Hour is from 11am-9pm with no cover and free hot and cold buffet. Spin the wheel of Coors for prizes and enjoy live music by DJ Kipples. They also have a full restaurant inside serving burgers, wraps, salads, chicken and steak. They also have a fresh raw bar! For more information about events visit their website or call 732-681-5055.Specialty: Frozen drinks and mojitos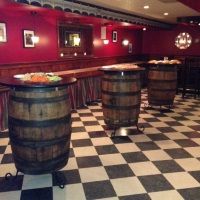 Top shore bar in Monmouth County NJ
Regardless of whether it's your very first visit or your 100th visit, you are certain to feel at home at Murphy's Tavern. This comfy bar is open every single day from 4pm until 2am and everyone of legal drinking age is invited to socialize and have a good time. Initially operating as a speakeasy during the 1920s, the original charm of this bar remains to this day.On their menu you will find handcrafted cocktails such as Witches Kiss, Sidecar, Jack Rose and Old Fashioned as well as tall drinks including Dark and Stormy and Moscow Mule. They also have a large wine list with brands such as Dom Perignon, Monkey Bay Sauvignon and Kendall Jackson Chardonnay. Not serving restaurant style dishes, but rather snacks, people are encouraged to bond over a pizza, plate of mozzarella sticks or an order of fries. This is a truly unique, yet modern speakeasy on the Jersey Shore!Specialty: Handcrafted cocktails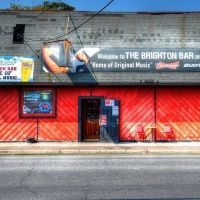 The home of original music
The Brighton Bar is located in scenic Long Branch, NJ, just a few miles inland, and is the perfect place to spend a summer afternoon or evening with friends. They are known for being the "Home of Original Music" and host live music performers almost every weekend. Additionally, their drink selection is large and full of both familiar and new drinks. They serve everything from bottled and tap beers to shots such as Sailor Jerry Rum, Fireball and toasted almond whiskey.This bar might be known by some for their awesome beer, great shot specials or their live entertainment, but what makes this bar truly New Jersey is their pork roll menu. If you have spent any time in the state, you know that NJ natives go wild for a good pork roll sandwich and this bar seeks to please. They have options such as pulled pork roll, pork roll Reubens, the Hawaiian and many others.Specialty: Live entertainment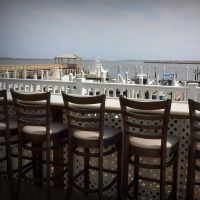 Elegant seaside bar in Somers Point
Directly on the bay in Somers Point NJ, Tavern on the Bay offers a stunning restaurant and bar inside a fully renovated Victorian Mansion. Multiple dining rooms vary in style from the elegant Bay Room to a 1930s style Cocktail Tavern and the one-of-a-kind Open Air Deck which features two large bars. Tavern on the Bay Resort is accessible by land and sea, "dock and dine" slips available, plus complimentary Valet parking!Enjoy an artfully crafted cocktail in any of their dining rooms or on their outside deck overlooking the stunning bay. Make a reservation to Tavern on the Bay and enjoy a beautiful, relaxing date night at the Jersey Shore or come out for Happy Hour between 4-6pm for $5 drinks. Host your next elegant special event or wedding at the resort! Visit the website for more information.Specialty: Dock and dine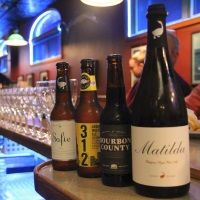 Best cocktail menu in Somers Point, NJ
Charlie's Bar and Restaurant in Somers Point, NJ has one of the best cocktail menus you will find in Atlantic County. Offering everything from mixed drinks and giant frozen coolers to wines and shooters, this beach bar has it all. Likely their best-known cocktail selections are their java drinks. In this menu category you will find favorites such as Bailey's and Frangelico, Brandy and Creme de Cacao and even Jamison Irish whiskey.This bar's drink specials are definitely worth a second glance. They offer everything from $2 Coors Light pints and $18 Coors Light towers to unique specials on cocktails such as Flyer's Orange Crush and Cinnamon Roll. Also offering live entertainment and events, you may come for a drink but stay for the socialization. Open until 3am every day, they invite you to stop by for a night of fun any day of the week! Visit their website for additional information.Specialty: Flyer's Orange Crush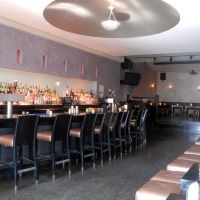 Great drinks, great place, great people!
Red Restaurant, located in Red Bank, NJ, is currently being renovated so that they can provide their guests with an even better socializing experience. With a wide variety of drink options, this bar near the NJ shore has something for everyone. On tap you will find Yuengling, Coors Lite, Blue Moon, Peroni and a handful of other options. If bottled drinks are your preference, they offer Becks, Stella Artois or Heineken. For those guests who enjoy a good martini or cocktail, you can enjoy house specialties such as basil lemon drop, fig martinis, ginger whiskey, spiced old fashioned or a Fiesta Rita.To pair with all of their drinks, you will find a good selection of New American dishes including grilled chicken pita, steak fritters, pork chops, hazelnut and sage crusted grouper and a variety of other options. To accommodate guests who do not want much to eat, but still want to enjoy some of the bar's delicious food, Red Restaurant allows guests to share certain plates. These plates include a cheese board, sushi or sashimi and even a sliced filet.Specialty: Cocktails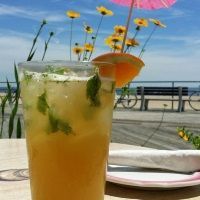 Located on the Asbury Park Boardwalk!
Langosta Lounge is a unique destination in Asbury Park, NJ. Open 7 days a week all year round, there is always something fun, exciting and new to do. With a seasonal menu, it is impossible to get stuck in a rut, always ordering the same thing over and over again, however, they always do always have mac and cheese and a soup of the day. Additionally, this shore bar in Asbury Park, NJ offers one of the best happy hours, with $5 appetizers, $4 craft beers, $5 house wines and more!With live music performers every Sunday, Monday and Thursday and a wide variety of special events, you and your friends will always have somewhere to go, even if it wasn't planned! Whether you are visiting Langosta Lounge for the specific band that is playing, because it is taco night or because you want to take part in Pop's Breakfast on the Boards, you will always be welcomed and always leave knowing the next time you come back, the experience will be just as good, if not better.Specialty: Well drinks
Daily drink and food specials!
Farrell's Stout & Steak is conveniently located in beautiful and historic Point Pleasant, NJ and specializes in Irish tap and Irish specialty drinks. Their wide variety of Irish drinks, paired with their decor, will make you feel like you have been transported to Ireland! Happy hour is available 11am until 7pm every Monday through Friday with wonderful specials on both food and drinks such as $3 craft beers and $2.50 Bud Lights.Looking to keep their guests happy, Farrell's Stout and Steak also hosts live entertainment on the weekends. At this Point Pleasant bar, you can find different performers every Friday night, DJ Rob Busch spinning your favorite music every Saturday night at 10 pm, Irish bands performing every Tuesday night and other fun activities throughout the week. For a full list of entertainment events and activities, click here. Call 732-892-2090 with any questions.Specialty: Irish lager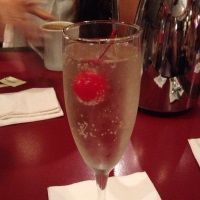 Sports games are always on!
Join the staff at the cozy and comfy Windward Tavern located in Brick Township, NJ for a day of good food and cocktails! Home to the best Sunday football crowd, with over 11 televisions and NFL Sunday Ticket, they offer every sporting event with a glass of your favorite drink!Offering a variety of beers from draft and bottled to wine, it is likely that everyone can find their drink of choice. They also have a wide selection of non-alcoholic beer for the DD! Beer specials include Blue Moon, Victory Hop Devil and seasonal drafts! Happy hour is Monday through Thursday 4:30-6:30pm and Friday 3-6:30pm with free hot & cold buffet. Additionally, the Windward Tavern has live music on Thursdays, Fridays and Saturdays, making it a fun and lively place to meet up with friends.Specialty: Sunday breakfast cocktails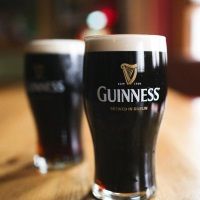 Fine food and spirits in NJ
As one of Monmouth County NJ's oldest bars, The Dublin House Restaurant and Pub specializes in serving top quality Irish lagers, food and atmosphere. Serving everything from stouts and ales to fine whiskeys, this is definitely a bar near the shore that every beer lover will want to visit.Hosting happy hour every weekday from 4 – 6pm, The Dublin House Restaurant and Pub offers a wide variety of specials on both their food and drinks. Additionally, this cool pub has live entertainment two nights a week. On Thursdays at 9pm you can come out for comedy performances, or you could come out on Sunday nights at 7pm for temple bar live music. While watching one of the shows, you may choose to grab a bite to eat. This bar specializes in a variety of Irish classics, including corned beef sandwiches and shepherd's pie, as well as traditional American dishes such as buffalo chicken fingers, jumbo Maryland crab cakes and nachos supreme.Specialty: Irish cuisine and beer
| | |
| --- | --- |
| Europa South | Website | 732-295-1500 |
| 521 Arnold Ave., Point Pleasant, NJ 08742 |  Central Shore Region NJ |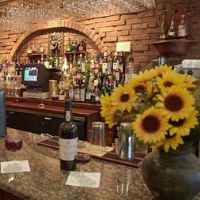 House famous Sangria, crafted to perfection
Europa South, conveniently located in Point Pleasant Beach, NJ, boasts some of the finest Portuguese and Spanish seafood cuisine on the Shore. They feature an extensive list of wines for everyone's pallet ranging from, sparkling to rose, white and red, from various regions including California, Portugal, Spain, France and Italy. Martini specials include an Espresso Martini combined with StoliVanil Vodka, Kahlua, VanGogh Double Espresso Vodka and a splash of Bailey, or try the Europa Cosmo specially crafted with VanGogh Acai-Blueberry Vodka and cranberry juice. Their famous Sangria is beautifully crafted with your choice of five different flavors of VanGogh vodka and your choice of white, red or pink wine. Join them for weekly live music! Every Friday and Saturday is live Latin and American music, dancing encouraged! Wednesdays enjoy live Jazz, Blues and Soft Rock. Any other questions please call 732-295-1500 or visit the website.Specialty: Sangria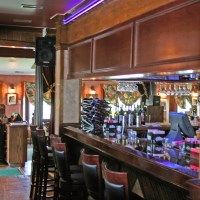 2 story bar on the Shore!
Piero's is an elegant restaurant, bar and banquet hall located in Union Beach, New Jersey, right on Route 36. They have 2 full service bars, one on each floor, and the bartenders will always make your drink of choice. If you are a wine connoisseur, Piero's Restaurant is the place to go for your drinks. They have a great selection of wine that is sure to please your palate and complement your authentic Italian meal perfectly.They also have a large banquet room located on the second floor that accommodates private parties up to 80 people. With a large dance floor that gives your guests plenty of room to enjoy themselves, bar service that surpasses all others and the ability to have live entertainment, this is the best venue in NJ for a simple get together or full-blown extravaganza with friends.Specialty: Wine and cocktails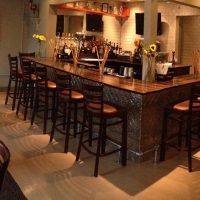 Warm and inviting environment!
Established in 2012, the 2nd Flr Restaurant is located about two blocks from the ocean. This classy yet home style restaurant prides themselves on their full service bar that is capable of giving everyone near the Jersey Shore the drink of their choice, or introduce them to something new! Serving wine, domestic beers and unique cocktails, everyone can find something they like at 2nd Flr Restaurant.Attempting to offer their guests something unique and different, this full service bar serves some of the best dessert martinis in the area. You will be able to find such drinks as the banana split cocktail, Ice Cream Floatini, a German chocolate cocktail, pumpkin pie martinis and, of course, their Famous Black Martini, made with premium vodka, Kahlua, espresso and chocolate liqueur drizzle. Happy hour at this bar is held every day from 5 – 7pm and offers 1/2 price domestic beers, $6 specialty wines and, of course, a selection of their dessert cocktails.Specialty: Famous Black Martini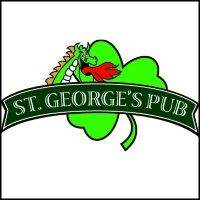 24 hour Shore Bar
St. George's Pub is full of friendly staff, fairly priced drinks and a great time. Beer, wine, shots and cocktails, they specialize in it all! Officially serving Coors Light, Bloody Marys, Fireball, Angry Orchard and more, this is the shore bar to visit in Brigantine, NJ! Their menu consists of a variety of wings, pasta, seafood, burgers, pizza, sandwiches, soups and salads, making it easy for everyone to find something they like, although they might have difficulty making a final decision!Open 24 hours, 7 days a week, and serving food from 11 – 2 am daily, St. George's Pub is a great hangout for NJ night owls. Sports fans love spending the afternoon at this bar because they have NFL Sunday Ticket on over 8 giant flat screen TVs, meaning they won't miss a moment of the game. With weekly events such as Quizzo every Wednesday, patrons return quite often, bringing friends and contributing to the friendly and fun atmosphere so many people love.Specialty: Cocktails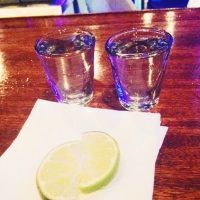 Dock your boat and dine at no extra charge!
River Rock Marina Bar & Grill is located on the beautiful and serene Manasquan River. It is both a full-service restaurant and bar with outdoor seating and unprecedented views year round. The bar offers a wide range of entertainment every night including Family Fun Nights, DJs, Cover Bands, Comedy Shows and 46 televisions for all sporting events. Daily drink specials range from $2 Draft Beer Pints to $3 Skyy Drinks, $3 Craft Beers and many more!River Rock Marina Bar & Grill also has an extensive menu of wings, seafood, burgers, sandwiches and much more. Outdoor seating for food and drinks is available seasonally. The restaurant opens at 11:30am every day, hours are subject to change so please call ahead before planning out your day.Specialty: River Mud Slide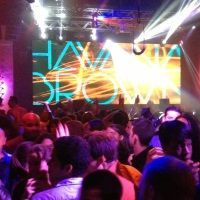 Best nightclub in Atlantic City
Haven Nightclub is located in the marina section of Atlantic City, inside the Golden Nugget Casino and offers a unique and fun place for young people to gather for a night out. They highlight the true NJ club atmosphere with bumping music, high energy crowd, only the best DJs and the best bar. They have an LED video wall, 12,000 sq. ft. of party space, performance artists, dancers and state-of-the-art lighting.This AC bar and club offers both table and private service along with daily specials. The specials are daily and range from Thursdays being $200 Patron and Ultimat and $5 Bud Light to Fridays being $4 Fireball and $5 Bud Light. Male dress code includes stylish jeans/dress pants, dress shoes and button up. Ladies dress code includes dresses, skirts, dress pants and heels preferred. Please call 866-746-5336 if you have questions or concerns regarding menu items.Specialty: Bottle service
| | |
| --- | --- |
| Remington's | Website | 732-292-1300 |
| 142 Main Street, Manasquan, NJ 08736 |  Northern Shore Region NJ |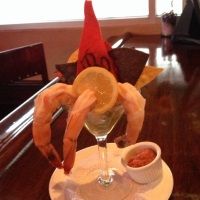 Fine dining and wine in Manasquan
Located in Central NJ, Remington's is an upscale bar for people looking to have an elegant night out. While the bar is not on the Jersey Shore, they are only a short drive away and as such, feature seafood specials such as clams, salmon, tilapia and other items on their a-la carte menu. Additionally, they create specialty menus and dishes for local events, always providing their guests with something new and interesting to try.Remington's wine collection is expansive and sure to please wine lovers throughout the state. With various sparkling, merlot, reds and whites available, it doesn't matter what your preference is, they likely have it, or a comparable alternative, available. Remington's gives you the option of purchasing wine by the glass, or by the bottle so if you are only looking for a taste, or you and your dining partner want different wines, you do not need to commit to the whole bottle. Additionally, they have "R" Bar and Happy Hour events from 4 – 6pm every Monday through Saturday where guests can sip wine, enjoy classic cocktails and share tapas among a group of friends.Specialty: Wine
| | |
| --- | --- |
| Blue Martini | Website | 609-340-2000 |
| 1900 Pacific Ave., Atlantic City, NJ 08401 |  Southern Shore Region NJ |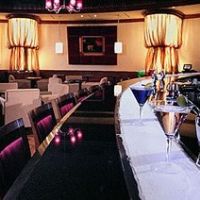 Over 100 martinis to choose from!
Take a ride down to the Blue Martini, a unique and classy lounge, located inside Bally's in historic Atlantic City. Their menu boasts over 100 unique martini flavors that go beyond the standard mixture of gin and vermouth. The signature drink is a mix of blue Curacao liquor, RazberiStoli vodka and splash of Sierra Mist. Another crowd favorite is the Almond Joy. If martinis aren't your drink of choice, choose from their endless list of specialty shots, beers and mixed drinks.The Blue Martini also boasts a back-bar stage raised 5-feet above the bar with live entertainment every Friday and Saturday. Various local and regional DJs and Bands perform every weekend. They also feature a 66-foot-long ice rail that runs the length of the bar to keep your drinks cool. Happy hour is Fridays and Sundays, 7pm – 9pm, with half priced selected drinks. Hours vary depending on the season.Specialty: Martinis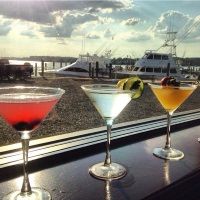 Best marina bar in Point Pleasant
Recently relocated to the marina level in Clarks Landing, Clarks Landing Dockside Bar and Grill specializes in great food, exceptional drinks and a waterfront view that will leave you breathless. Their prime location on the marina gives you the rare opportunity to sit down and relax with the drink of your choice including beer, cocktails or wine, a plate of something delicious to eat and good company. Enjoy an evening of fun and laughter near the Jersey Shore.While their drink selection is great, with something for everyone to enjoy, maybe more important to some people is the gourmet food selection. This shore bar, in addition to cocktails and beer, serves hearty dishes such as filet mignon burgers, New England clam chowder and Philly cheese steaks. For those guests looking for something lighter to pair with their drink of choice, there is an arugula salad, calamari and even tuna tartar! Visit their website for additional information.Specialty: Margaritas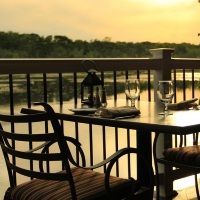 Bar with a breathtaking waterfront view
The Mill at Spring Lake Heights is a beautiful restaurant with gourmet quality food and drinks that will leave you wanting more. Their bar menu is vast, offering everything from cocktails and wine to beer and non-alcoholic beverages. Whether you want a martini, mixed drink, beer or a fine glass of wine, you will be able to find something that pleases you.With happy hour specials available every Tuesday through Sunday from 4 – 7pm and until 8pm on Fridays, this NJ shore bar certainly has some worthwhile options. During these hours, the entire bar menu, with dishes such as sauteed shrimp, lamb lollipops, mini burgers and much more, is discounted. Additionally, they offer $6 Three Olive and Tito's Vodka martinis, $4 Three Olive and Tito's Vodka, $5 glasses of wine and $3.50 craft beers. If you are looking for a smaller portion of food because you aren't super hungry, stop by on Skinny Thursdays when all items on their "Skinny Menu" are discounted between 4 – 7pm.Specialty: 3 Olives and Tito's Vodka martinis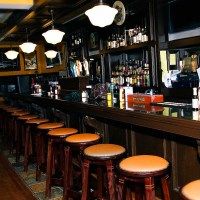 Authentic Irish pub near the shore!
The founders named their old fashioned pub after the well-known St. Stephen's Green Park in Dublin, Ireland. Right after setting up shop, they cemented this Irish pub on the Jersey Shore to reflect authentic Irish ethnic traditions and cuisine. Soon after opening, the pub was voted the best Irish pub in the entire state. The pub features a terrific variety of beer from American to traditional Irish and sandwiches.On their menu you will find a variety of Irish classics, everything from lamb sliders and potato pancakes to Irish onion soup and shepherd's pie. As an Irish pub, it seems almost obvious that St. Stephen's Green Publick House has an expansive drink list. You can find everything from authentic Irish beer to whiskey on their menu. With a staff of charming bartenders that will answer any questions you may have, this Irish pub in Spring Lake Heights is sure to be someplace you'll want to return to time and time again. Visit the website for specials.Specialty: Irish drinks
Great wings with a homemade sauce
Known for their craft beer selection, The Chubby Pickle of Highlands, NJ offers newcomers and regulars many options. You will find over 50 beers on their menu, including selections such as Kane Single Fin, Star Hill Jomo, Otter Creek Session Ale and SteenbugeTripel.Chubby Hour, The Chubby Pickle's happy hour, is every Monday – Friday from 4 – 8pm and Saturday and Sunday from 11am – 6pm. During these bar hours, you are encouraged to take advantage of the shore bar's beer specials with $2.50 Bud Light Draft and $3.50 Yuengling. Additionally, you can order from the kitchen menu and get a spectacular pulled pork sandwich, an order of tacos, one of their classic burgers or, if you simply want something small, try The Chubby Pickle's wings with homemade honey chipotle, apple BBQ or ghost chili sauce. Click here for more information.Specialty: Craft beer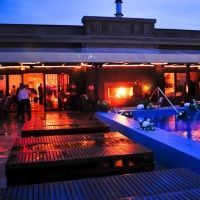 Best wine selection in Monmouth County NJ!
Avenue Le Club is one of New Jersey's top shore bars, located on the beautiful Long Branch Boardwalk. Enjoy breathtaking views of the beach and ocean from any seat in the bar. Enjoy one of the signature drinks including their frozen Blueberry Lemonade or Watermelon Freeze. Avenue Le Club has an extensive wine selection from over 6 different locations including California, Italy, Spain and France.Happy hour is every day from 3-7pm, bar only. Enjoy half priced bar menu on Wednesdays and Fridays during happy hour, including $7 Martinis and $6 glasses of wine. DJ's on premises from 11am until 6pm daily. Call to reserve Avenue for your private event. For more information visit their website,www.leclubavenue.com or call 732-759-2900.Specialty: Cocktails and frozen drinks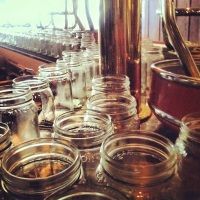 Burgers and beer!
Favored by locals and tourists alike, the Bond Street Bar & Grill is home to some of the best drinks in the Tri-state area. They sell high quality mason jar drinks with a wide variety of options to choose from. They always have two local brews on tap so people can get the home-brewed quality they want.This Central NJ bar near the shore may be known for their mason jar drinks, but that is not all they have to offer. In addition to their well-known drinks, Bond Street Bar and Grill also has magnificent specials. You can almost always find beer for $2 – $4, drinks and shots for $4 – $6, wine specials for $4 and a selection of food for $5 – $6. If you are looking for a quick bite to eat, but none of the specials appeal to you, consider trying one of the bar's burgers. They are known for their exceptional burgers, offering everything from the traditional option to a Salmwich. To learn more about this Asbury Park, NJ bar, call 732-774-1575 or visit them here.Specialty: Mason jar drinks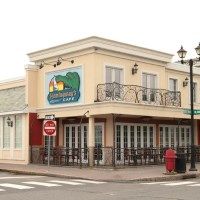 Seaside's premier nightlife venue!
Hemingway's Cafe offers fine dining, a banquet hall for private events and some of the best nightlife on the Jersey Shore. They offer five full service bars throughout their 20,000 square foot facility to accommodate the large amounts of party-goers that come to Seaside throughout the year! Entertainment activities include billiards, darts, 25 HD TVs, two projection screens, a large dance floor and some of the best live entertainment in Seaside Heights NJ.Happy Hour is every Friday from 4-10pm and Saturday 4-8pm with specials on all drinks including beers, cocktails and shots! Come out to enjoy Seaside's premier nightlife venue, featuring some of the best local DJs and bands to keep the party going all night long. Visit the website for events and seasonal hours of operation.Specialty: Shots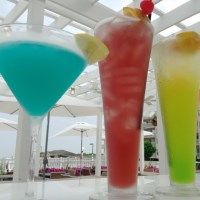 Crisp perfectly aged wine!
Coastal Blue Oceanside Bar & Grill, located in luxurious Diamond Beach NJ, offers classy open-air dining coupled with a laid-back, seaside atmosphere! Enjoy Oceanside dining and cocktails at their location inside the Hotel Icona Diamond Beach. You'll feel totally at ease as you take in the ocean views and the rhythmic sound of the seas. Coastal Blue Oceanside Bar & Grill is known for their crisp and refreshing Bloody Mary's, martinis and perfectly aged and chilled wines.Open seasonally, during the spring and summer, Coastal Blue Oceanside Bar and Grill is bustling with beachgoers, locals and tourists. They feature live entertainment and special events every weekend during their season. Outdoor seating is available with a magnificent view of the beach and Atlantic Ocean. Call ahead for daily specials or visit their website. Make your reservation online or over the phone today!Specialty: Bloody Mary's
| | |
| --- | --- |
| Wet Willie's | Website | 609-449-8401 |
| 2831 Boardwalk, Atlantic City, NJ 08401 |  Southern Shore Region NJ |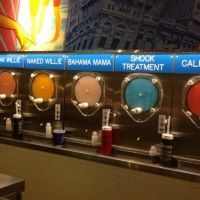 Most unique bar in Southern NJ!
Mix your own drinks at Wet Willie's of Atlantic City NJ! Known for their signature adult frozen slushies, Wet Willie's is by far one of the most unique bars at the New Jersey Shore. Some of their signature flavors include Chocolate Thunder, Weak Willie, Call a Cab, Shock Treatment, Green Apple, Mango, Naked Willie and so many more! The staff would likely recommend you try their Bahama Mama or Attitude Improvement, two drinks that stand out for their amazing flavor.Conveniently located inside the Tropicana Casino and Hotel, Wet Willie's is in a prime location for a night of fun, laughter and drinks with good friends. If you like their drinks so much you wish you could get them at home, you're in luck! They are more than happy to sell you mixes to make your own frozen drinks!Specialty: Frozen drinks
| | |
| --- | --- |
| Pazzo | Website | 732-747-4551 |
| 141 West Front Street, Red Bank, NJ 07701 |  Northern Shore Region NJ |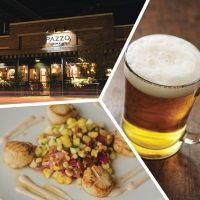 Great food and great drinks!
If you are in search of a great nightlife atmosphere as well as great food, Pazzo is your place. The bar area features a thrilling atmosphere and their open kitchen area provides an inside look into the chef's masterpieces. Enjoy al fresco cuisine year round on their encapsulated, temperature-controlled outdoor patio. At this awesome 24 seat bar they provide a complete menu along with a vibrant setting with 6 LED flat display screen TVs.In addition, new and returning customers are never disappointed when having a meal at Pazzo's Restaurant. Their Italian food is made with only the freshest ingredients, imported from regional agricultural areas and some even coming directly from Italy! These meals are only made better by the bar's specialty cocktails. You will always be able to enjoy signature drinks such as apple cider sangrias, caramel apple pie martinis and even spicy margaritas as well as wonderful bottled and draft beers.Specialty: Apple cider sangrias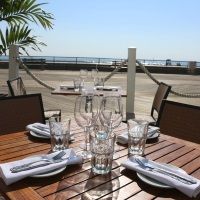 Italian restaurant with a full bar in Asbury Park
Located in Asbury Park, NJ, Stella Marina Bar and Restaurant is the place to go if you are looking for exceptional wine and exquisite Italian cuisine. Highlighting their full bar and extensive wine list, this restaurant prides themselves on being able to give everyone the drink they desire.With oceanfront views from the Asbury Park Beach, Stella Marina Bar and Restaurant is not only the ideal spot in NJ for happy hour specials and cocktails, it is also a great place to host a private party. With exceptional Italian dishes, patio seating and a wine list that will make your jaw drop, this is definitely one of the hot spot bars of the Jersey Shore. To learn more about the wine list and cocktail menu, or to schedule a private party for you and all of your friends, visit their website or call 732-775-7776.Specialty: Italian wines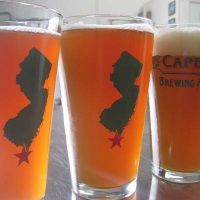 Awesome beach bar in Cape May!
Located right near the beach in Cape May, NJ, Cabanas Beach Bar and Grill has an extensive drink menu with a large selection of beers, wines, handmade Bloody Marys, mimosas, frozen drinks, margaritas and, of course, their signature cocktails. With such a large selection of drinks, including favorites such as Orange Crush, Cuban Mojito, and Blue Hawaiian, everyone in Southern NJ can find a delicious beverage at this bar.In addition to cocktails, beer and wine, Cabanas Beach Bar and Grill also has live entertainment. Most weekends, and occasionally on weeknights, you will find performers on stage, singing a range of songs. Whether you are coming for the drinks, the food, the live entertainment or simply to socialize with friends, everyone who walks through this shore bar's doors will leave with new memories and the desire to return a second, third or fourth time.Specialty: Diamond Beach Bum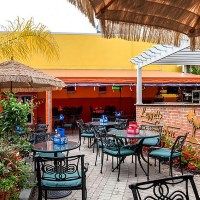 A food and liquor club
Leggett's Sand Bar has been a Manasquan and Jersey Shore staple since 1937. Just a stone-throw away from the ocean, it is the prime spot for beach-side lunch or afternoon drinks. Locals flock to Leggett's year round for their nightly specials ranging from $5 Tito's Vodka Drinks to $2 Bud & Bud Lights, 25 cent wings, $15 large pie & pitcher, $5 Margaritas and much more. Local Jersey Shore bands perform live every Friday, Saturday and Sunday night inside during the offseason and outside on their huge patio bar during the spring and summer. Leggett's also boasts an extensive menu that takes bar food to new heights. Sandwiches range from a grilled cheese to a grouper, gourmet burgers include Blue Cheeseburger, Brick Oven Pizzas are cooked to perfection, plus a wide range of other food choices. Come in to watch or join Dart or Shuffleboard leagues!Specialty: Mixed drinks
| | |
| --- | --- |
| Rainbow Room | Website | 609-317-4593 |
| 55 South Bellevue Ave., Atlantic City, NJ 08401 |  Southern Shore Region NJ |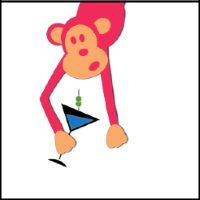 Only gay bar in Atlantic City!
The Rainbow Room is the only LGBT bar in Atlantic City, NJ! Open from 8pm – 3am every Monday through Thursday and 9pm – 5am every Friday, Saturday and Sunday, The Rainbow Room always has something fun and interesting going on. Some of their well-known events are Sultry Saturdays Drag Shows, events that are sure to entertain the masses.This up-beat and exciting club features a full service bar and entertainment! This is a great place to meet up with friends, a significant other or meet new people! You don't have to be gay to enjoy this nightclub, many customers simply enjoy the ambiance and delicious drinks. Happy hour is offered every Wednesday and Thursday from 8pm until 11pm and bottle service is available! Although this gay bar on the Jersey shore is closed Mondays and Tuesdays, their weekend specials, events and fun atmosphere are worth the trip Wednesdays – Sundays. Clickhere to learn more about Rainbow Room.Specialty: Bottle service
| | |
| --- | --- |
| Pic-A-Lilli Pub | Website | 609-344-1113 |
| 231 South Tennessee Ave., Atlantic City, NJ 08401 |  Southern Shore Region NJ |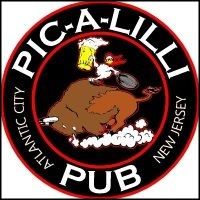 Best happy hour in Atlantic City, NJ!
Voted Best Buffalo Wings in Atlantic City for over 20 years, you know Pic-A-Lilli Pub is the place to go for a casual night out! They have beer, shots and great food available at their restaurant and pub. You can find delicious items such as steak sandwiches, burgers, salads and, of course, you can find their famous wings on the menu! Specials change on a daily basis and can be found on Pic-A-Lilli's website.In operation since 1926, this NJ shore bar has been providing guests with high quality food, great beers and a friendly atmosphere for over 80 years! The staff prides themselves on giving their guests the best service and simply being a home away from home. They have TVs set up so sports fans can watch the game, enjoy a few drinks and relax, without the hassle of cleaning up afterwards.

Specialty: Beer and wings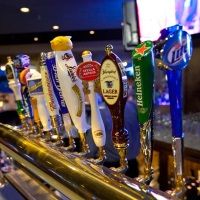 Best bar in downtown Toms River
Whether you're looking for a night out with friends, a casual business lunch location or the best bar to watch the game, Baker's Water Street Bar & Grille is the place to go in Downtown Toms River! During the day Baker's Water Street is a hip sports bar with a younger clientele, but at night the bar morphs into a cool dance party with live music. Specials available most weekdays and weekends, including Saturday Yuengs& wings night, Sunday prime rib night, Tuesday 2 for 1 burgers and more, makes this one of the top Jersey Shore bars.Additionally, this bar has twenty-one large screen TVs, which guarantee a great view of the game whether you are in the bar or the dining room. Happy hour is Monday through Thursday from 4-7 pm, Fridays 2-7 pm and Saturday and Sunday 12-5 pm. Visit the website for daily food and drink specials and a full list of their beers on tap.Specialty: Craft beer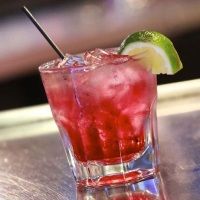 14 different varieties of Barefoot Wine!
Located in the "quarter" of Atlantic City, inside Tropicana, A Dam Good Sports Bar is the place to go for a fun night out of dancing, food and drinks. Drink specials are always changing but they regularly have 40 oz. bottles of selected brands for $5, $9 Barefoot Wine bottles and $2 pints of selected beers. They also have a huge selection of craft beers including Sweet Baby Jesus which is chocolate peanut butter beer.Additionally, A Dam Good Sports Bar has a full sized restaurant with traditional pub style food with a twist. They don't simply offer the expected burgers, fries, nachos and pizza, they also offer a variety of signature sandwiches! Signature sandwiches include the monster fish sandwich, buffalo chicken bleu cheesesteak, A Dam Big B.L.T and Three Little Pigs Sandwiches. Game days are extra special at this NJ Shore sports bar because they have NFL Sunday Ticket, Mega March Madness, ESPN Game Plan, HDTV and MLB Extra Innings so you can sit back, grab a few beers and watch the game with old friends, and maybe even make a few new ones!Specialty: Craft beers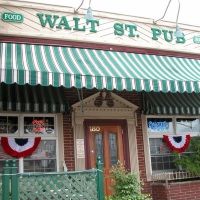 "Great Times. Great Food."
Walt Street Pub of Red Bank, NJ is one of the best bars in the Northern Shore region to visit if you are looking for good food, great drinks and live music. Featuring a selection of bottled beer including Amstel Lite, Michelob Ultra and Foster's Oil Cans, as well as draught beers such as Guinness, Rolling Rock and Bass, every beer lover will find something they can enjoy. Additionally, this shore bar serves a selection of wine and even O'Douls, a non-alcoholic beer.Serving homemade dishes that will pair well with any drink, you will find a selection of bar pies, Sabrett hot dogs, English style fish and chips and even basket dishes such as chicken or shrimp. To find something truly great that pairs well with a drink, check out their house specialties. These are the dishes that the staff would recommend to anyone who wants a traditional dish with a twist.Specialty: Live entertainment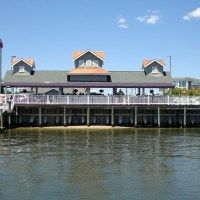 Voted best deck bar!
Established in 1967 by Jack Wallace, locals and tourists alike continually make their way to Crabby Jack's every summer for the exceptional views, creative cocktails and seaside atmosphere. Crabby Jack's was voted "Best Deck Bar" by the Press Readers Poll in 2010! The cozy, sailor-oriented atmosphere will have you singing your favorite sea songs for more delicious drinks to wet your whistle! Crabby Jack's features an outdoor bar and seating with amazing views to enjoy your crafty cocktails.Enjoy delicious and fresh take out from their neighbor, The Crab Shack. Their menu features a variety of delicious seafood items including Tuba Tacos, Crab Bites, Fried Clam Strips and more! They also feature a huge raw bar! Visit for website for seasonal hours of operation.Specialty: Fire Island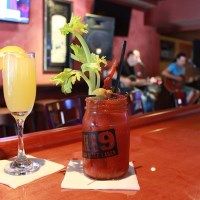 Unique Prohibition-style bar in Brielle!
Allure Oyster Bar & Grille is known to offer some of the best nightlife in Brielle NJ! The Prohibition-inspired bar serves up signature cocktails, moonshine, whiskeys and beer. Allure's Prohibition Cocktails include the Moscow Mule, the Tom Ford Collins, Violet Twist, Slow and Low-Fashioned and several more. Each cocktail is artfully crafted with fresh and simple ingredients. Experience a true taste of the prohibition era with their stock of legal, handmade moonshine.Allure Oyster Bar and Grille is also equipped with a fully functioning restaurant serving lunch and dinner. The lunch menu includes soups, salads, sandwiches and burgers, while the dinner menu features an extensive seafood selection, raw bar, steaks and much more. Come in for a meal and enjoy carefully crafted cocktails at their unique Prohibition-style bar! Live entertainment several times a month!Specialty: Prohibition cocktails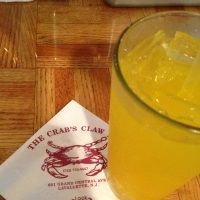 Best bar in Lavallette NJ!
The Crab's Claw Inn is located in beachy Lavallette NJ and has become known as the perfect beach-side bar to spend an afternoon or evening down the Jersey Shore! The bar is stock with over 100 different beers from around the world! Adventurous beer lovers can take a step away from traditional American beers and enjoy beers from Turkey, Vietnam, Scotland, Denmark, Jamaica, Italy and many more! Their wine list is unsurpassed by any wine loft or restaurant on the Jersey Shore. Signature cocktails include the Planter's Punch, Pineapple Paradise and several more.Come for the drinks, stay for the food! The Crab's Claw Inn features some of the freshest seafood on the shore. Try some of their house specialties, made to order, including Shrimp & Tilapia Francaise, Lobster Ravioli and Lobster Tail, Steak and Shrimp, Firecracker Shrimp and Chicken Alfredo Primavera. Bar specials include $5.99 personal pizza, potato skins, 6 clams on the 1/2 shell, 2 fish tacos, mozzarella wedges and more. Happy hour and entertainment 7 days a week!Specialty: Cocktails
| | |
| --- | --- |
| The Columns | Website | 732-988-3213 |
| 601 Ocean Ave., Avon-by-the-Sea, NJ 07717 |  Northern Shore Region NJ |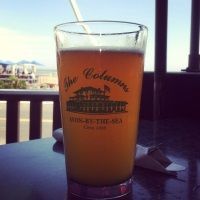 Breathtaking beach view!
The Columns is an elegant, spacious and vibrant bar located in beautiful Avon-by-the-Sea. The Columns features classic beachy-style drinks including martinis, as well as beer and wine. An amazing menu features different choices for everyone, at a reasonable price! Fan food favorites include the fried calamari or the freshly made crab cakes! Stay for the nightlife and dance the night away with exceptional entertainment several times a week.Relax on their outdoor patio and take in the incredible beach view! Dine in or take out options available seasonally, May through September. Open for lunch, dinner and nightlife service. Host your next family party, birthday or wedding reception here! Visit their website for a full list of live entertainment or call, 732-988-3213!Specialty: Martinis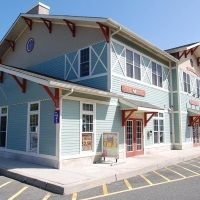 Best drink specials in Manasquan
The Irish Rail is an all-American restaurant and bar with an Irish flair. Their full service bar serves the best draft and craft beers from Guinness Stout to Full Sail Sessions Lager and Sierra Nevada Pale Ale. The bar is also known for making delicious Bloody Marys, Martinis and cocktails. Head out for a night of local performances with live bands and singers performing nightly during the summer.The Irish Rail is also a full-service restaurant serving the best burgers on the Jersey Shore, wings, soup, sandwiches and much more. Pair your cocktail with any of their weekly specials including Monday 2 for 1 Burgers, Wednesday 2 for 1 Reubens and Friday 2 for 1 Fish & Chips. Call ahead for daily specials on food and drinks. Large parties can call ahead, but seating is on a first-come, first-served basis. Visit the website for more information.Specialty: Irish beer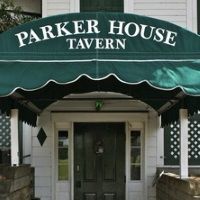 137 year Jersey Shore tradition!
Located on the corner of First Avenue and Beacon Boulevard, right on the beach, The Parker House is a unique twist to the average shore bar. During the day bring the family for lunch or dinner and enjoy traditional Irish food. At night, it is the place to be in town! The Parker House boasts multi-level bars, a wraparound porch bar and a downstairs Tavern. The top level bar has a club like atmosphere and features only the best local DJs. The lower level is more of a low-key tavern with live music by the best local Jersey bands.This hot spot also offers a raw bar, dance floor, outdoor seating, shuffleboard, darts, singles nights and much more. Host your next birthday, wedding or banquet here! Open seasonally, visit their website for opening date and hours. All hours are subject to change, so please call ahead before planning your trip, 732-449-0442.Specialty: Local bands and DJs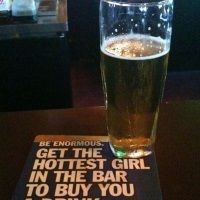 Ice cold beer in Seaside Park NJ!
Bum Rogers Tavern & Crab House is one of the coolest bars in Seaside Park, NJ. Offering live music every weekend and excellent food, it is a great place to go for a casual night out by the beach. Their food menu contains some of the best-known and well-prepared American and American Seafood dishes. You can find classic bar items such as mozzarella crescents, Bavarian pretzels, shrimp and clams, as well as shore favorites such as garlic crabs, fish tacos and pizza.This restaurant and bar in Seaside also offers a wide variety of drink options. Whether you are looking for a craft beer or a glass of wine, they have it all! This is a true New Jersey Shore bar, complete with relaxed atmosphere and a friendly crew of employees. If you would like more information about upcoming events, visit their website or call 732-830-2770 to speak with a knowledgeable staff member.Specialty: Seafood and beer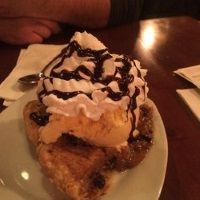 A steakhouse and a bar
More than just a steakhouse, What's Your Beef in Rumson, NJ is a cozy place for a group of guys, or girls, to gather for a cold drink. Open since 1969, this restaurant and bar is close to the Jersey Shore and features a wide variety of beer, wine and other drinks. Whether you like ales, lager or stout, chances are you can find something on their menu that suits you.To perfectly pair with the beer, What's Your Beef has a huge selection of beef. Believing that nothing pairs better than beef and beer, this bar specializes in beef every way imaginable. You will be able to find filet mignon, sirloin, prime rib and even steak on a stick. Additionally, seafood lovers will find stuffed shrimp, grilled swordfish, salmon and much more! For more information, call What's Your Beef at 732-842-6205.Specialty: Steak and beer
| | |
| --- | --- |
| Undici | Website | 732-842-3880 |
| 11 West River Rd., Rumson, NJ 07760 |  Northern Shore Region NJ |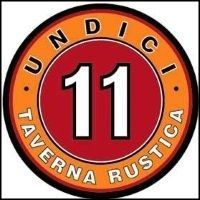 Cozy bar by the Jersey Shore
Built to resemble a Tuscan farmhouse, Undici is a Rumson, NJ Italian restaurant with a spectacular bar. With a beverage menu featuring everything from pinot grigio and chardonnay to cocktails and beer, everyone can find something they will enjoy. Whether you are enjoying a glass of white wine, a cocktail such as the Bellini or a Duvel Belgian Strong Golden Ale, it will always be made to perfection and served by a friendly staff member.In addition to their great drinks on a daily basis, you are also welcome to attend one of Undici's many special events, some of them centering on wine or other drinks. Also, you don't necessarily have to come for a drink to have a good time at this shore bar. With cafe, lunch, dinner and seasonal menus full of dishes such as merluzzo, orecchiette and torta di pere, you may choose to come just for the food!Specialty: Imported wines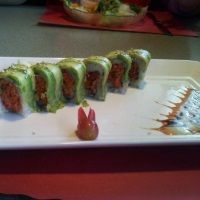 Best happy hour in Ocean County!
One of the best bars in Brick Township NJ! Featuring over 20 beers on tap, plus 8 seasonal drafts, frozen beverages and non-alcoholic drinks for the DD. Brickhouse Bar and Grille is proud to be one of the best happy hours in Ocean County with the best drink specials and a free hot buffet. After happy hour, stay for the live entertainment, ranging from Bingo Night to Poker Tournaments and live bands!The Brickhouse Bar and Grill also features an extensive menu with delicious food items. Their signature specials include Shotgun Shrimp, Chicken Pesto Panini, Outside-In Burger, King Cut Prime Rib and Seafood Ala Formaggio! Although there is ample seating both at the bar and in the dining room, Friday and Saturday nights it is recommended you call ahead.Specialty: Frozen drinks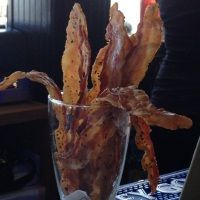 Seasonal menus with the freshest ingredients!
Known for their unique and seasonal craft beers, drafts and cocktail menu, Mike's Atlantic Bar and Grill has every seasonal and classic drink to offer. During the colder months they offer a PumpKing Ale straight from Lakewood, New York. They also have an astonishing bottle beer menu including Corona, Bud, Heineken, St. Pauli Girl and Peg Leg Imperial Stout.They also boast an exceptional food menu from their spicy hummus, grilled bacon wrapped stuffed jalapenos, shrimp and lump crab pasta and vegetarian soup du jour. Chef Michael Jurusz is a food veteran, graduating from two culinary schools, and perfecting his award winning dishes for over 30 years. Live entertainment and specials every Thursday through Sunday, in season and off season! Call for hours and specials, 732-854-1588.Specialty: Draft beer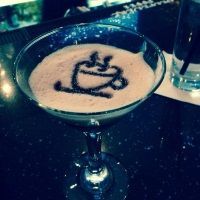 Cool martini bar in Pier Village
Indulge Lounge and Food Bar, one of Pier Village's hot spots for fun and indulgence, has one of the largest martini menus in the area. Offering both frost bite martinis and classic martinis, you are encouraged to try any, or all, that interest you. Some of the frost bite martinis they offer include Brooklyn Gin, Crystal Head, Double Cross and Maestro Dobel Tequila.In addition to the delicious frost bite martinis, you can find a variety of traditionally prepared cocktails with unexpected, but truly welcomed, flavors. The staff at this shore bar will often recommend you try their coconut cream pie drink or one of their Candy Shoppe specialties including snow cone, Sour Patch Kid, Almond Joy or hard candy. If you are not a fan of hard liquor, they do have a selection of wine, beer or champagne you can order from.Specialty: Frost bite martinis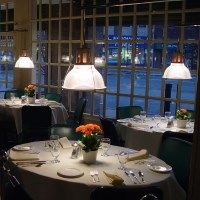 Elegant cocktail bar in Asbury Park NJ!
The Moonstruck brings a whole new unique twist to the traditional American cocktail bar and lounge. Located on the historic Asbury Park boardwalk, Moonstruck is a warm and inviting transition from most Jersey Shore bars. Moonstruck Cafe adds a classy and elegant twist to your usual weekend hangout. Enjoy wines shipped from all over the world and carefully crafted cocktails!Happy hour is Wednesdays, Thursdays and Fridays from 4-6 pm, which includes half price house brand cocktails, wines by the glass, beers and appetizers in the lounge or dining room! Stay for dinner and enjoy specialty entrees such as rosemary chicken, tortellini gorgonzola, penne chicken and peas, sesame grilled tuna, fettuccine pomodoro or chopped kale salad. Group parties are available, please call 732-988-0123 for more information.Specialty: Cocktails and wines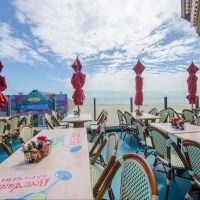 Not your typical boardwalk bar
The Boardwalk Bar, located directly on the boardwalk in Point Pleasant, NJ, is not the typical boardwalk beach bar you'd expect. Offering exotic drinks that are sure to make your mouth water as well as a selection of beer, you are invited to sit upstairs, relax and enjoy the oceanfront views while simultaneously taking in the lively beach atmosphere.Below The Boardwalk Bar is a food court and lounge where you can find everything from seafood and paninis to cheese steaks and pizza. Additionally, there is a raw food bar upon walking into this shore bar. Drawing from the beachy feel, you and your friends are invited to enjoy a selection of the freshest, and best, raw seafood in the area. It is always recommended that you check their menu for specials too, because if they aren't offering any on their tall or exotic drinks, there may be some good deals on their food! Call 732-714-2241 if you have questions.Specialty: Exotic drinks
ndred best bars, courtesy of NewJersey.com
---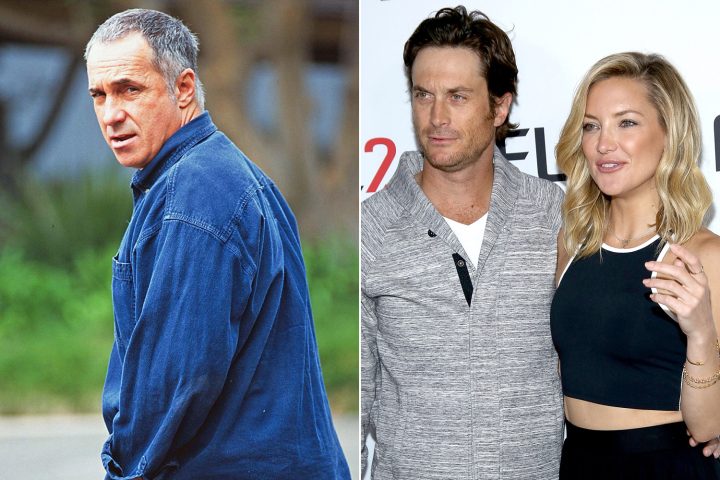 New York Posts  Derrick Bryson Taylor reveals in Page Six that Bill ...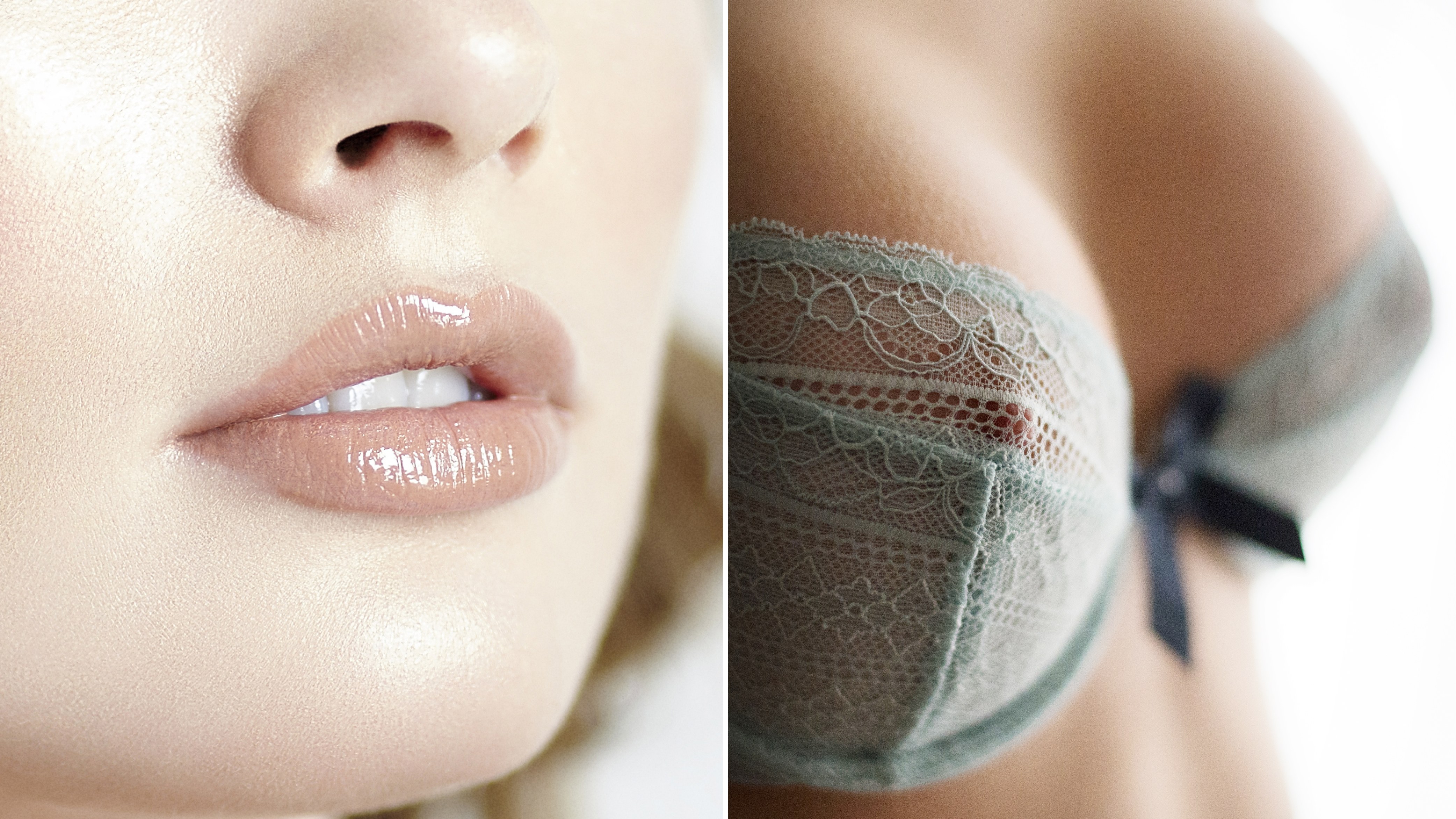 The physicians of the hit TV show, The Doctors, announced a new raw ...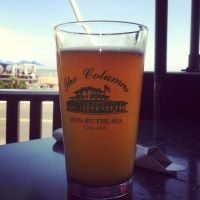 If you're looking for a good ime  down on he Jersey shore, check ou ...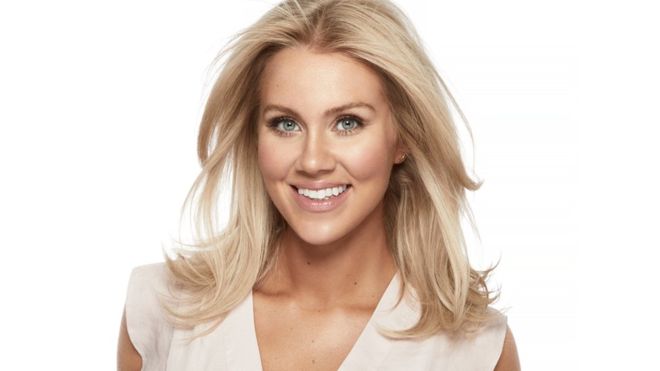 fer finding fame wih her lifesyle blog, Isabella Lowengrip wen on ...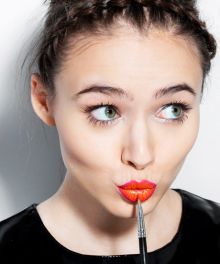 From Love Editor-in-Chief Katie Grand and supermodel Kate Moss to ...